PLEASE NOTE:
The Circle Support team here does

NOT

support the Circle on NETGEAR product. We created these resources to help you get started, but if you need some assistance, please contact the Circle on NETGEAR support team using the info in this article.
NOTE: This article is specifically about setting up Circle on a
supported NETGEAR router
. For setting up our legacy Circle Home device (our little white box), check out
our setup article here
! The latest Circle Parental Control software is not embedded on any NETGEAR routers currently. Learn about Circle and Circle Home Plus at meetcircle.com
Basic vs. Premium for Circle on NETGEAR
Circle on NETGEAR comes with basic features that are free to use. If you'd like to unlock the full potential of Circle on NETGEAR, you'll need to subscribe to use our premium features, which include setting time limits for specific categories and platforms, as well as a total time limit; creating BedTimes and other OffTimes during the day when the internet is paused; and viewing more detailed usage statistics for a profile.
How much does it cost to use Circle's premium features?
Want to try out Circle on NETGEAR Premium? Start a free month trial in-app by following the prompts. (Your subscription will auto-renew unless cancelled.) The premium features included with Circle on NETGEAR cost $4.99 USD a month and are billed through your Apple or Google Play Store ID. You can also subscribe to our yearly $49.99 option to save 20% on your subscription. Check out this article to see how to subscribe to Circle Premium.
Which features are available for free?
You can use the following Circle features for free on a supported NETGEAR router:
Pause: Pause the Internet, specific family members, or specific devices.
Filters: Control what is (and isn't) allowed from a list of popular platforms and general categories, and set your own custom websites to be filtered.
History: View the history of websites visited per profile.
What features can I get with Circle Premium?
You'll be able to unlock the following Circle features with Circle Premium:
Time Limits: Set time limits for online activity per family member, whether it be for a specific platform or category, or a total time limit for the Internet.
BedTime: Disable the Internet when it's time for bed, and re-enable it when the sun shines tomorrow.
OffTimes: Disable the Internet at certain times (Homework, Dinner, etc.)
Rewards: Extend the length of Time Limits, BedTimes, or OffTimes for just the day.
Usage: View detailed information about a family member's online activity, categorized.
How do I subscribe to Circle Premium?
See our help page here for instructions on unlocking all of Circle's Premium features.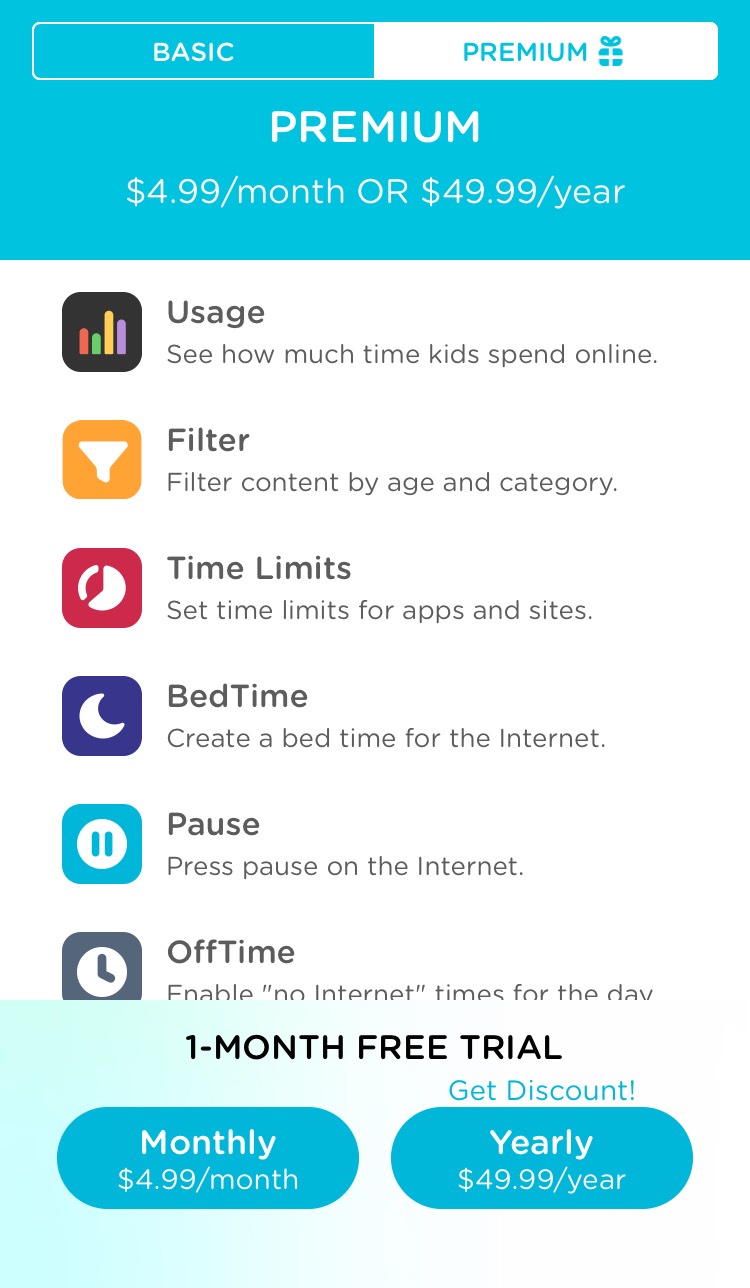 How do I modify my subscription?
If you need to modify your subscription, head over to this support article for assistance.
Yearly Subscription Option
With the release of the 2.1 version of the Circle 1st generation app we're happy to announce our new yearly subscription for the Circle on NETGEAR Premium. The yearly subscription level allows customers to sign up for Circle on NETGEAR Premium at the rate of $49.99 a year. That's a 20% discount compared to the month-to-month price.

Now, upon setting up Circle on NETGEAR, users will be offered a yearly subscription for Circle on NETGEAR Premium alongside the month-to-month option.
Users already subscribed to Circle on NETGEAR Premium and wanting to move from the month-to-month subscription to yearly will be able to do so. The instructions for doing so are dependent on where your original month-to-month subscription was made:
For App Store subscriptions a user can manage this by logging in using their Apple and changing their subscription settings here. After the current billing period ends the new subscription level will be automatically billed and selected from then on.
For Google Play subscriptions:

On your Android phone or tablet, open the Google Play Store.

Check if you're signed in to the correct Google Account.

Tap Menu and then Subscriptions.

Select the subscription you want to change.

Tap "Cancel subscription".

Follow the instructions to do so.

After the subscription period has ended open up the Circle app and then Menu >> Premium.

Select the appropriate subscription and begin it.