The Circle app can notify you of several events related to what's going on with your Circle device so you can stay on top of everything that's happening with your home Wi-Fi. You can access the notifications settings by going to Menu >> Manage >> Push Notifications, and here are what the notifications screen looks like: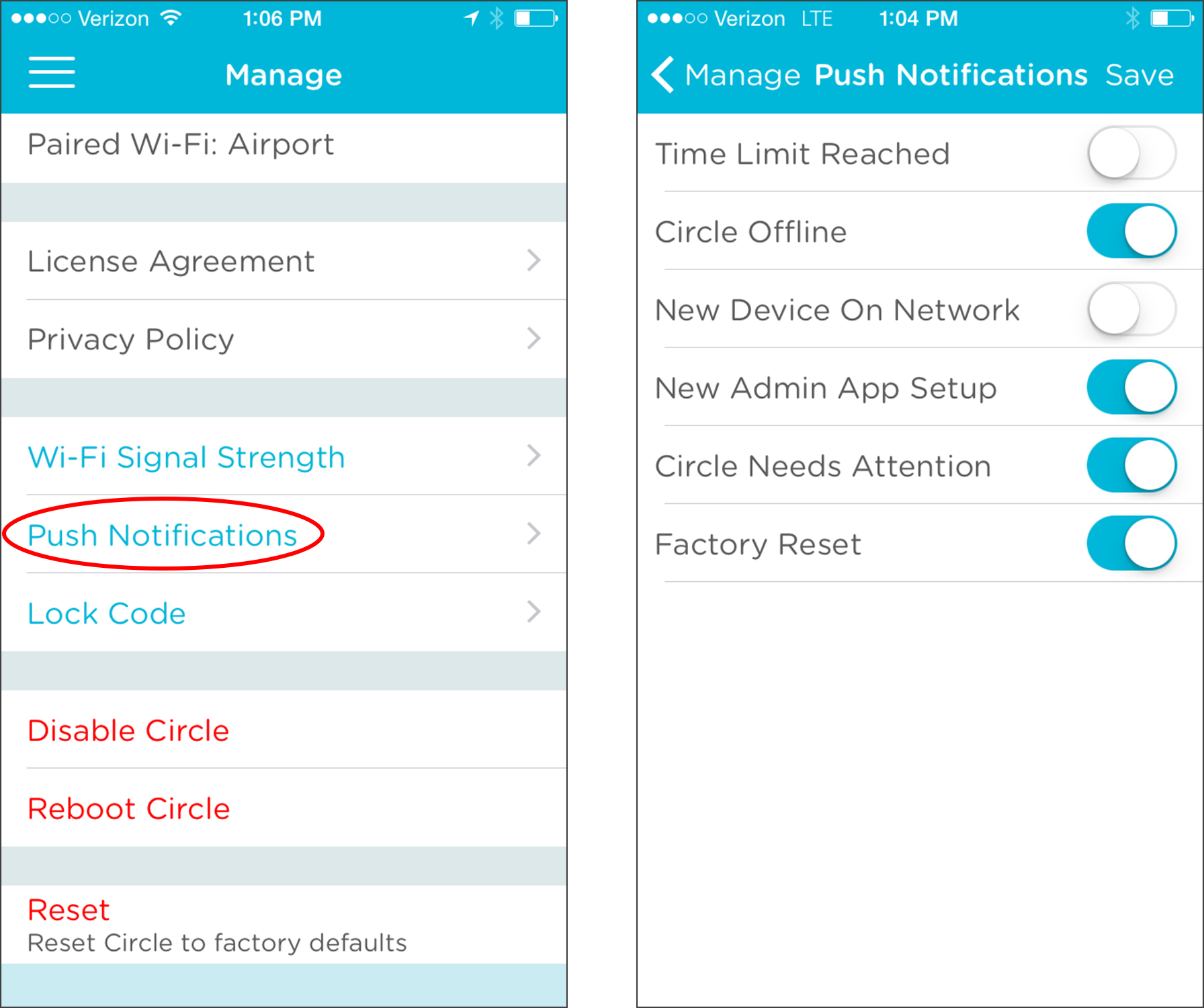 Circle App Notifications
[Name] has reached their [Hour] hour [Minute] minute daily time limit.
Alerts you when a family member has reached one of their Time Limits.
Looks like your Circle is offline.
Alerts you that the Circle device can no longer talk to the Internet. This can happen when the Circle device is turned off or disconnected from your network, as well as when there is an Internet outage at your home or some other factor that might prevent the Circle device from getting online. NOTE: Your Circle device may still be able to manage your network at this time. If you get this alert, check the connection of your Circle device.
A new device [Device name] has joined your network.
Lets you know that a new device has joined your home Wi-Fi, along with either the manufacturer information or device name.
[Device name] is now able to manage your home Circle.
Notification for when someone has successfully setup the Circle App to manage your Circle device.
Looks like your Circle device needs some attention. The battery is running low.
Alert for when your Circle device is running low on battery and could go offline soon.
Circle has been turned off.
An alert telling you your Circle device has been turned off.
Your Circle has been reset to factory defaults.
Notification that your Circle device has been reset to factory defaults.
---
To manage push notifications:
In the Circle app, go to Menu >> Manage >> Push Notifications.
Use the toggles to turn ON or OFF the notifications you'd like to receive from Circle.
Press Save to retain your new notification settings.
---
Receiving notifications "Circle Go is no longer active"
It is possible to disable Circle Go on your device, and doing so will result in a notification like this being sent to the admin device that you use to manage your Circle settings via Circle Home:
At times, there may be a similar notification following this that indicates Circle Go is still inactive on that device. Here's how to understand this better.
Why are you getting this notification?
Circle Go is built to be smart about where and how you connect to the Internet, so the Circle Go system is constantly checking on the whether a Go-enabled device is getting online over a "safe" Internet connection or not.
When Circle Go is first installed, it will identify the network that you are connected to at the beginning and designate it as a "safe" network because that is where your Circle device is located. When a Go-enabled device connects to that network, Circle Go will recognize that you are on your own Circle-managed Wi-Fi, and because Circle's settings are already in place at home, the connection stays OFF.
When the Go-enabled device is away from home and getting online using another Wi-Fi network or 3G/4G/LTE cellular connection, Circle Go will come on and continue to manage that Internet connection. If it does not, the notification above will be sent to the admin device.
With few exceptions, these notifications are sent because the Circle Go connection has been disabled on the device Circle Go is trying to manage. There are a number of reasons why someone may turn off Circle Go —both legitimate and less-than-legitimate—so Circle Home will send this notification to let you know what is going on and give you an opportunity to have a conversation within the family about the Circle Go experience overall.

Note: There are rare circumstances where the Circle Go connection may not connect in a timely manner when switching network or data connections. If this occurs and remains disconnected for over an hour you may get a notification that the device needs attention. This does not mean the Circle Go connection or MDM was intentionally removed. Check to make sure Circle Go connection and MDM profile are still installed correctly or that the device administrator is still checking for MyCircle.
How to address this notification
You can always disable Circle Home notifications by going to iOS Settings >> Circle >> Notifications and turning OFF the "Allow Notifications" toggle on the phone or tablet you use to manage Circle. However, aside from disabling notifications for Circle Home altogether in iOS Settings or removing Circle Go from the device, the best way to address the notification that Circle Go has been disabled and rendered inactive is to re-enable Circle Go on that device.
To re-enable the Circle Go Connection
Take the device that you want to re-enable Circle Go on.
Go to iOS Settings >> General >> Virtual Private Network
On the entry for the Circle Go Virtual Private Network, tap the information badge (the circle with an 'i' inside) to open the Circle Go Virtual Private Network settings.
It is very likely that the Connect on Demand toggle is turned OFF. Switch the Connect on Demand toggle ON (to the right).



NOTE: The Connect on Demand toggle is managed manually and does not automatically turn itself on or off. If this toggle is turned off, the Circle Go Virtual Private Network will not launch on its own when a Go-enabled device is away from the "safe" network, and your Circle settings will not be enforced.