The History section of a family member's profile displays a list of sites that were visited and even shows you sites that were attempted to be accessed even though they were filtered out.
To View History
Open the profile of the family member you would like to view History for.
Tap the History section.
The History page will load, detailing the list of websites visited by the family member, with the most recent websites listed at the top.
Filtered History
The Filtered tab will show the date and time of attempts to access a Filtered site.
To always allow a filtered website:
Click on the website you want to always allow.
Tap "Set as Allowed".
The site will no longer be filtered and can always be accessed except during Pauses, BedTimes, OffTimes, and when a Time Limit has been reached. In addition, it will now appear under your family member's profile in the Custom Filter section.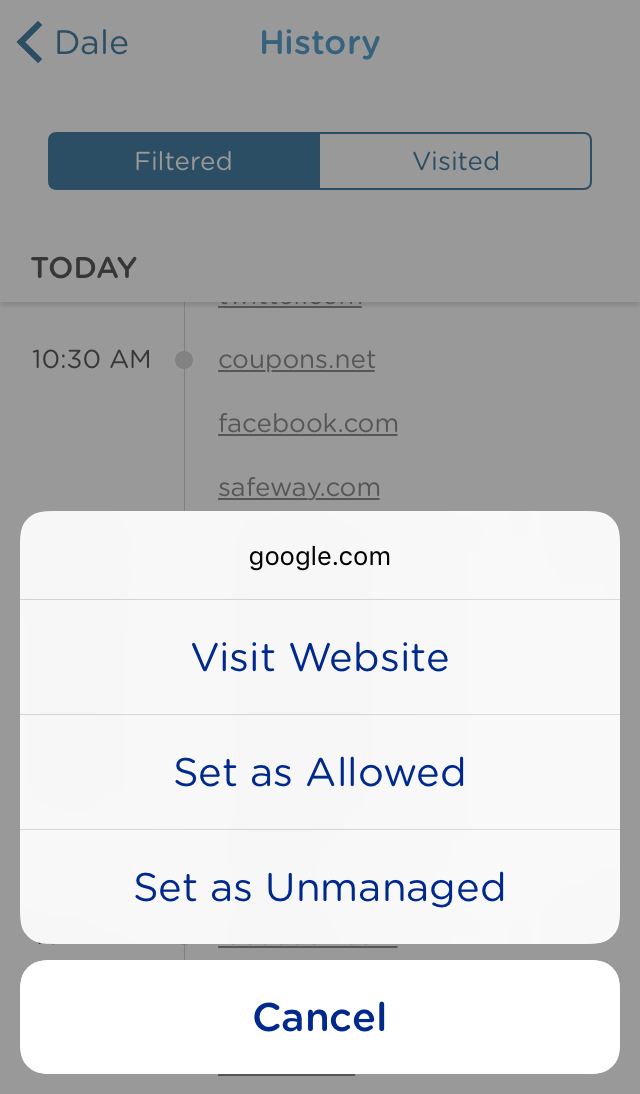 Visited History
The Visited tab displays websites that were opened by devices under your family member's profile by date and time.
To filter a visited website:
Click on the website you want to filter.
Tap "Set as Not Allowed".
The site will now be filtered and can no longer be accessed.
A toggle for this site will now be present under Custom Filters within the family member's profile.
Clearing or Deleting History
Circle does not currently support clearing or deleting history logs for individual profiles. If you would like to clear the history for a profile, read more about your options here.
Why can't I open a link in History?
Some URLs that appear in History won't open if you tap "Visit Website". This is usually because the URL is being loaded by another app or website, and does not have a version of the website that will load in your device's browser. Circle is seeing this traffic and shows it in history, and categorizes it appropriately. A good way to learn more about what your family members are doing online is to compare the History and Usage views for the period.
---
Other helpful articles:
Common History troubleshooting issues: