Want to make sure you don't lose your Circle device's configuration? You can Backup and Restore your set up. We recommend doing so before factory resetting the Circle device. Backup and Restore won't save your History or Insights, but it will keep your Profiles, Filter Levels, Time Limits, OffTimes, etc.
⚠️Warning: This feature is no longer usable on Android devices due to incompatibility issues. As well, it is no longer possible to back up profiles on the Circle 1st generation device (Circle Home) and restore them to Circle on NETGEAR. An error will be generated if this is attempted.
Backing up your Circle Profiles
In the Circle app, tap the Menu icon in the top-left.
Tap Manage.
Tap Backup Circle Profiles to begin the backup process.
You'll be notified when the process is complete. The time and date of your last Backup will appear underneath the Backup Circle Profiles option, and the Restore From Backup option will now be visible.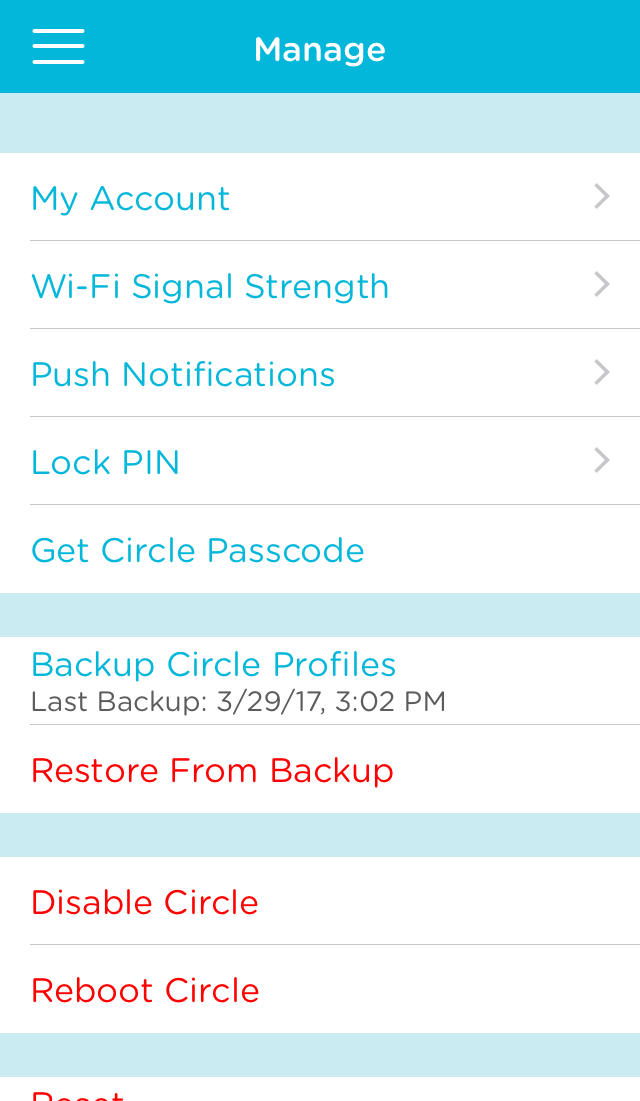 iOS users: The iOS version of the Circle app saves the backup file to the application itself; if you delete the Circle app from your iOS device, you will lose this backup as well.
Restoring your Circle's configuration
In the Circle app, tap the Menu icon.
Tap Manage.
Tap Restore From Backup to begin the process. If you do not see this option, you do not yet have a backup available.
The Circle app will inform you that it is restoring your profiles, and then the Circle device will reboot. This process can take a couple of minutes. Wait until the app refreshes to continue using your Circle.
PLEASE NOTE: This feature does NOT backup or restore your Usage data; all visited history and usage times will be wiped upon a restore.
Restoring after a factory reset
The Backup and Restore option makes setting up your Circle device again after a factory reset a breeze. Before you factory reset your Circle device, make sure you've created a backup using the steps above. You can factory reset your Circle device by heading to Menu >> Manage >> Reset.

Remember: Factory resetting your Circle device will bring it back to the point where it is ready for set up. You will lose all of your information and have to go through setup again to use your Circle device.
To restore your Circle device configuration from backup after a factory reset:
Plug in your Circle device and wait for the LED light to start blinking.
Open up the Circle app on the device you used to make your backup.
Start the setup process by tapping Begin. Follow the instructions.
After you've connected to your Circle device hotspot, it will detect that there is a restore point present. Tap Restore to apply the backup.
Once the restore data has been applied, continue through setup by re-pairing your Circle device with your WiFi network and creating an account.
After finishing setup, you'll be brought back to the Home Screen. Your configuration will be back to what it was previously!
My Restore Is Failing or Not Showing Up
The Circle 1st generation app's restore feature can fail in a few specific scenarios:
If you uninstall the Circle 1st generation app on iOS your backup will also be deleted. This backup cannot be restored or recovered.
If your Android device has its storage cleared or cleaned the backup may be removed. This backup cannot be restored or recovered.
Backing up and trying to restore from a Circle 1st generation device to your Circle on NETGEAR router, or vice versa will fail. These backups are incompatible and cannot be used between the two products.
After software updates to the Circle app or your device firmware the restore may fail. These backups are incompatible and cannot be used on later versions.