Using a built-in, Circle-enabled NETGEAR router, and not our little white box? You'll need to subscribe to Premium in order to use this feature; see this article for more details.
OffTime makes it easy to schedule times throughout the week when the Internet is unavailable so that kids can play, do homework, or just get some plain old family time in. Think of it like scheduling Internet time outs all throughout the day!
Feature Video: OffTime
How to manage OffTime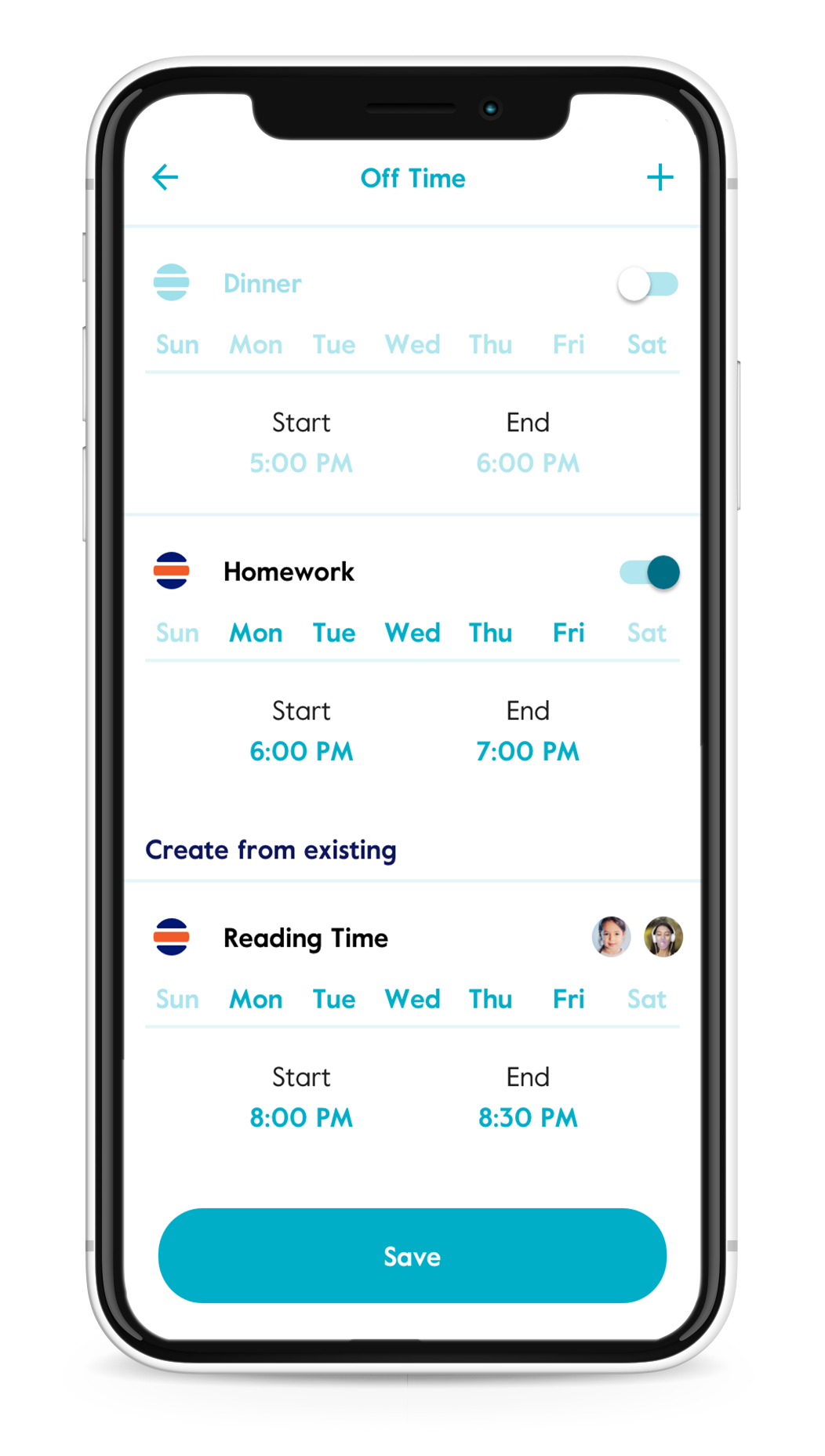 To Set an OffTime
Open the appropriate family member's profile

in the Circle Home app. The option to set an OffTime is located at the bottom of the profile settings options.
Tap "OffTime" to begin.


Tap "Get started".
Use the create OffTime screen to set the Name, Days of the Week, and Time of Day for this OffTime.

OffTime works just like BedTimes with the added benefit of being able to add a name, as well as create multiple OffTimes.


Once you are finished, tap Save. That will add the OffTime to your family member's OffTimes list.

Note: Between the start and end times you set for this OffTime, this profile will lose access to the Internet, just like during Pause and BedTimes.
Customize an OffTime
From the OffTimes list, you can continue to customize how those OffTimes work throughout the week. You can…
Use the toggle to enable or disable that OffTime.


Tap anywhere on the OffTime schedule to change either the days of the week, time of day, or both.


Tap the plus button to create a new OffTime for your family member!
Once you are done, tap Save at the top to keep your OffTimes in place.
Note: If you change your mind or accidentally forgot to save any changes you make to OffTimes, Circle will remind you that you have unsaved changes and let you decide what should be done.
---
Creating From An Existing OffTime
Families often have similar schedules. They get home from school at the same time, eat at the same time, and do many other things together. With OffTimes, it's easy to grab an OffTime that you've already created and apply it to another family member. Here's how:
Open the OffTime settings for a the appropriate family member.

In the OffTime settings, will see the option to:

Create a new OffTime by tapping the "Add OffTime" button.
Create an OffTime for the family member from a list of existing OffTimes that belong to other family members.

To create an OffTime from an existing OffTime, simply tap on the one you want.