Location is not available for Circle 1st generation apps (Circle with Disney, Circle on NETGEAR).
Want to check in on your kids while they're out and about? Circle makes that possible. With the new Circle Location feature, you can check on the whereabouts of your kids' Circle-enabled mobile devices wherever they go.
How to locate a family member
Register one or more mobile devices with Circle and assign them to the desired Profile. Learn more about registering your kid devices for Circle management when they leave your home.
Then, select that Profile from the home screen and tap "Location" from the feature list. You might have to pick from a list of multiple devices to locate the one you want.
Wait for Circle to locate the device. This can take up to a minute or two.
When the device has been found, you'll see a marker on the map (see screenshot below). Use your finger to move around the map, and pinch to zoom. At the bottom of the screen, you'll see the time when the Location was received. You can check their Location again by tapping "Refresh."
NOTE: Locating a device will only work if the following is true:
Notifications and Location Service permissions are enabled on the device you are locating.

The Circle app is installed on the device using the kid version and the VPN is enabled.

The device is powered on and can access the Internet.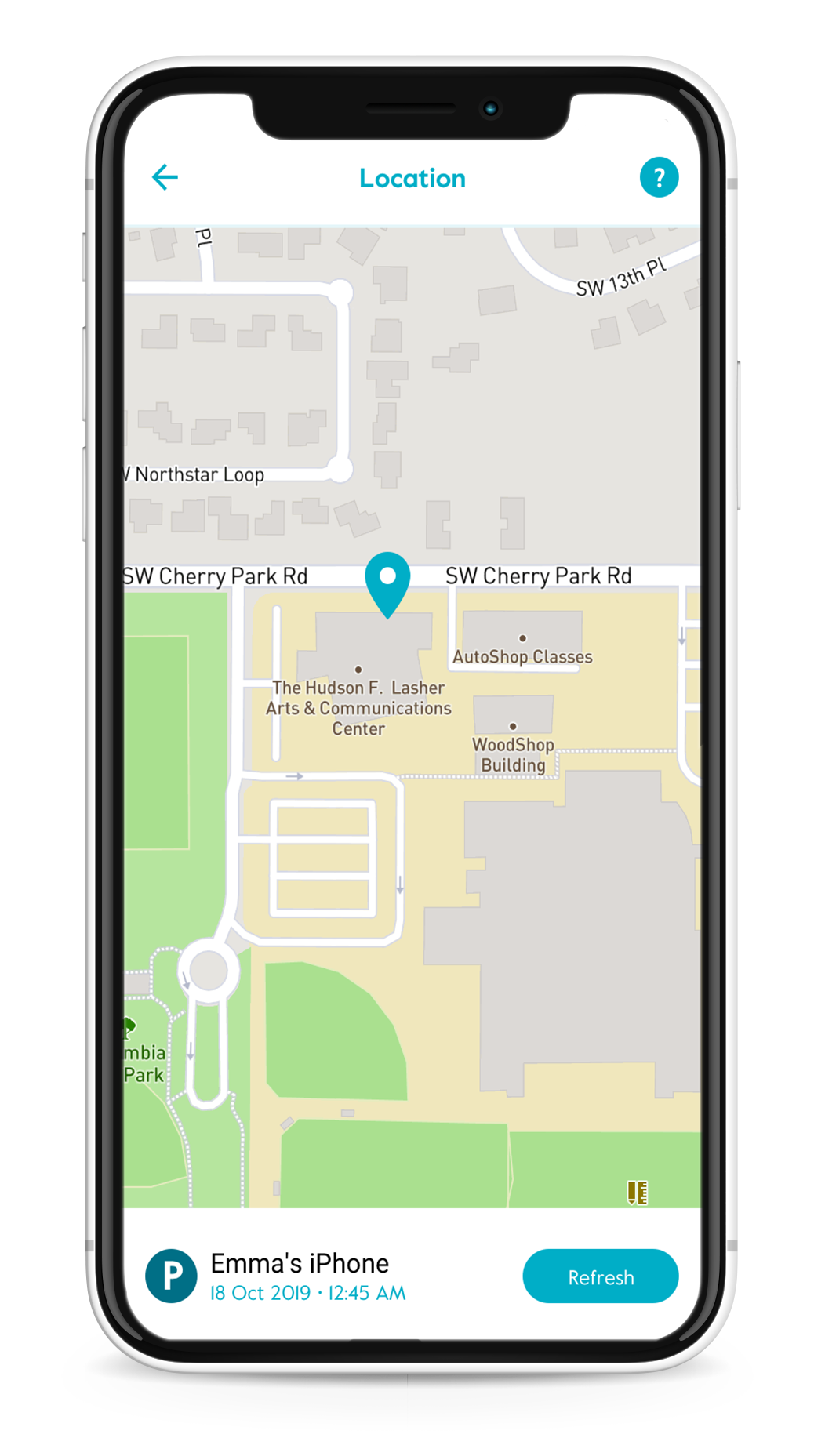 Does Circle save a history of my kid's location?
No, Circle does not store a history of previous locations.
Having trouble locating a kid's device?
In order for Circle's location feature to work, the following must be true:
The device you want to locate has Circle installed properly on the device and the VPN is enabled
Push notifications are turned on for the Circle app on that device
Location services are enabled for the Circle app on that device
If you're having trouble, we recommend the following troubleshooting steps:
Verify that notifications are allowed for the Circle app on both devices.
Verify that location services are turned on and allowed for the Circle app on the device to be located. For iOS devices, make sure that "Always Allowed" is selected for Location Services.
Verify that the device to be located is turned on and has an adequate cellular or Wi-Fi signal.
Location Troubleshooting Guide: