Circle's Time Limits feature gives you control over how much time a family member spends online each day. You can set a Daily Time Limit, limits by category of content, and limits for individual platforms.
Feature Video: Time Limits
How to find Time Limits
From the Circle app home screen, tap a profile to open that family member's settings.
Select Time Limits.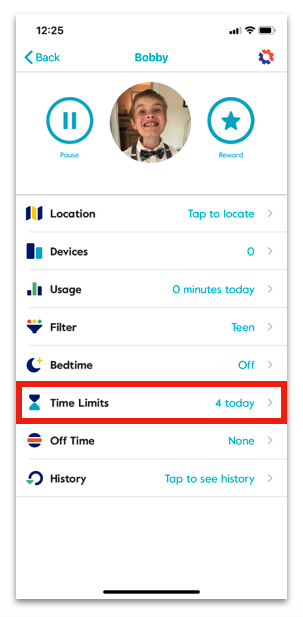 Making changes to Time Limits
Open a profile and tap Time Limits.
To change the Daily Time Limit, tap the time selector below that family member's picture (see screenshot below).
To change a Platform or Category Time Limit, tap that row in the list to access the time selector (see screenshot below).
Adjust each Time Limit to the preferred setting
Press Save.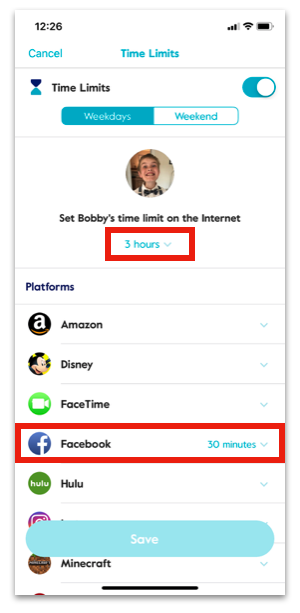 How do Daily, Category, and Platform Time Limits work together?

A profile can have three different types of Time Limits:
Total Daily Time Limit
Category Time Limit (ex. "Videos")
Platform Time Limit (ex. Netflix)
Circle enforces Time Limits from the most general (Daily Time Limit) to the most specific (first Categories, then Platforms). Each Platform belongs to one of Circle's Categories, and Platforms can't have more time than their "parent" Category does. Similarly, neither Platforms nor Categories can have more time than the Total Daily Time Limit.

For example: If you've set up a 4 hour Total Daily Time Limit, you can't set a Category or Platform Time Limit higher than 4 hours for the set of days you've chosen. As well, if you've set up a Category Time Limit for "Videos" of 3 hours, you won't be able to set the Netflix Platform Time Limit to more than 3 hours.