Circle keeps an up-to-the-minute record of sites that a Profile has accessed, as well as a list of sites that have been filtered out. All of this is accessible by tapping the History option on a family member's Profile.
How to view a family member's History
Launch the Circle app and tap the family member profile whose History you want to view.
Tap History.
The picker at the top of the screen lets you switch between sites that were Visited and sites that were Filtered.
Swipe up on the screen to view History further back in time.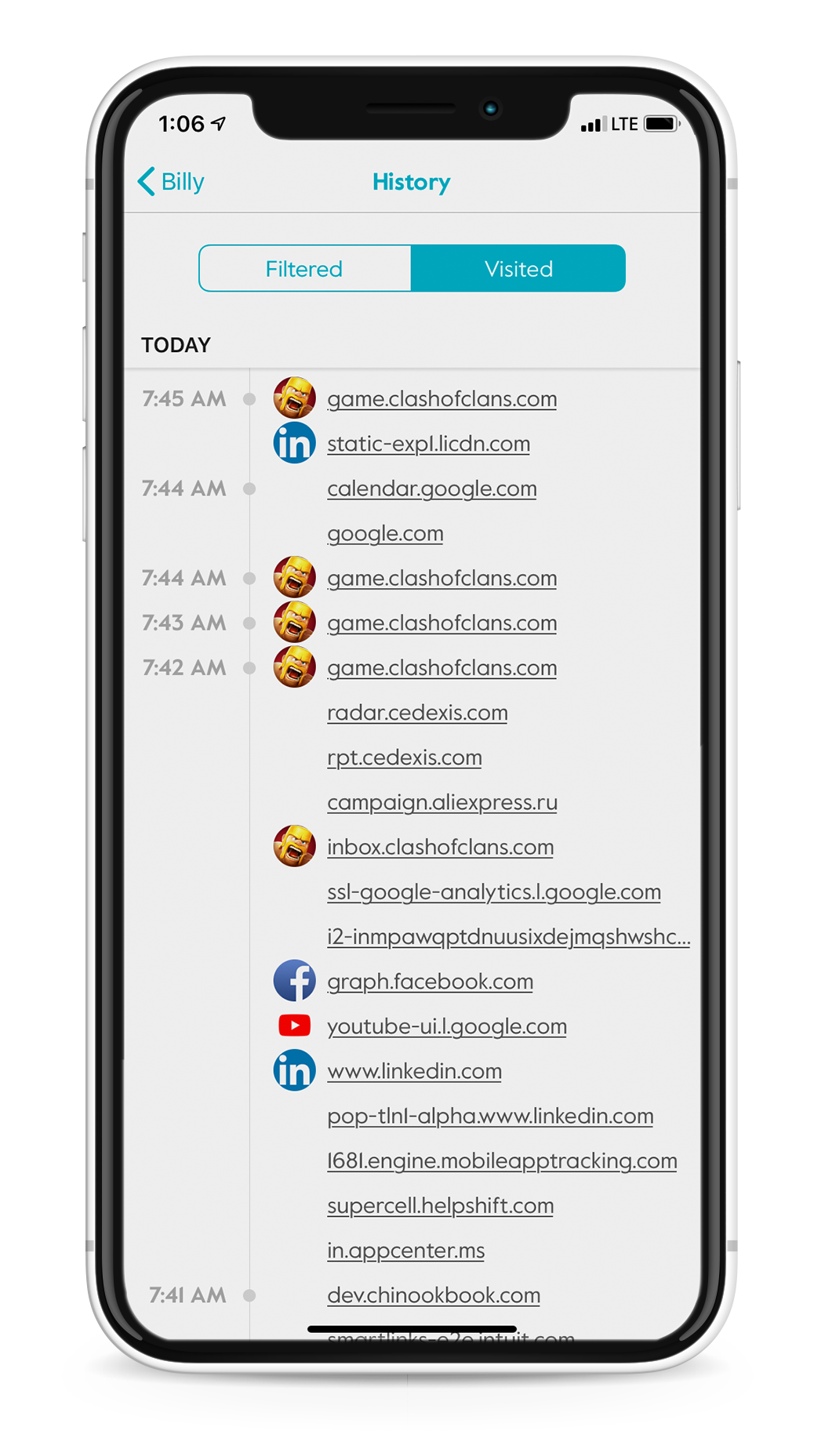 Actions you can take for sites you see in History
Open History for a family member.
Tap any site in History you want to take action on.
Select one of the actions described below.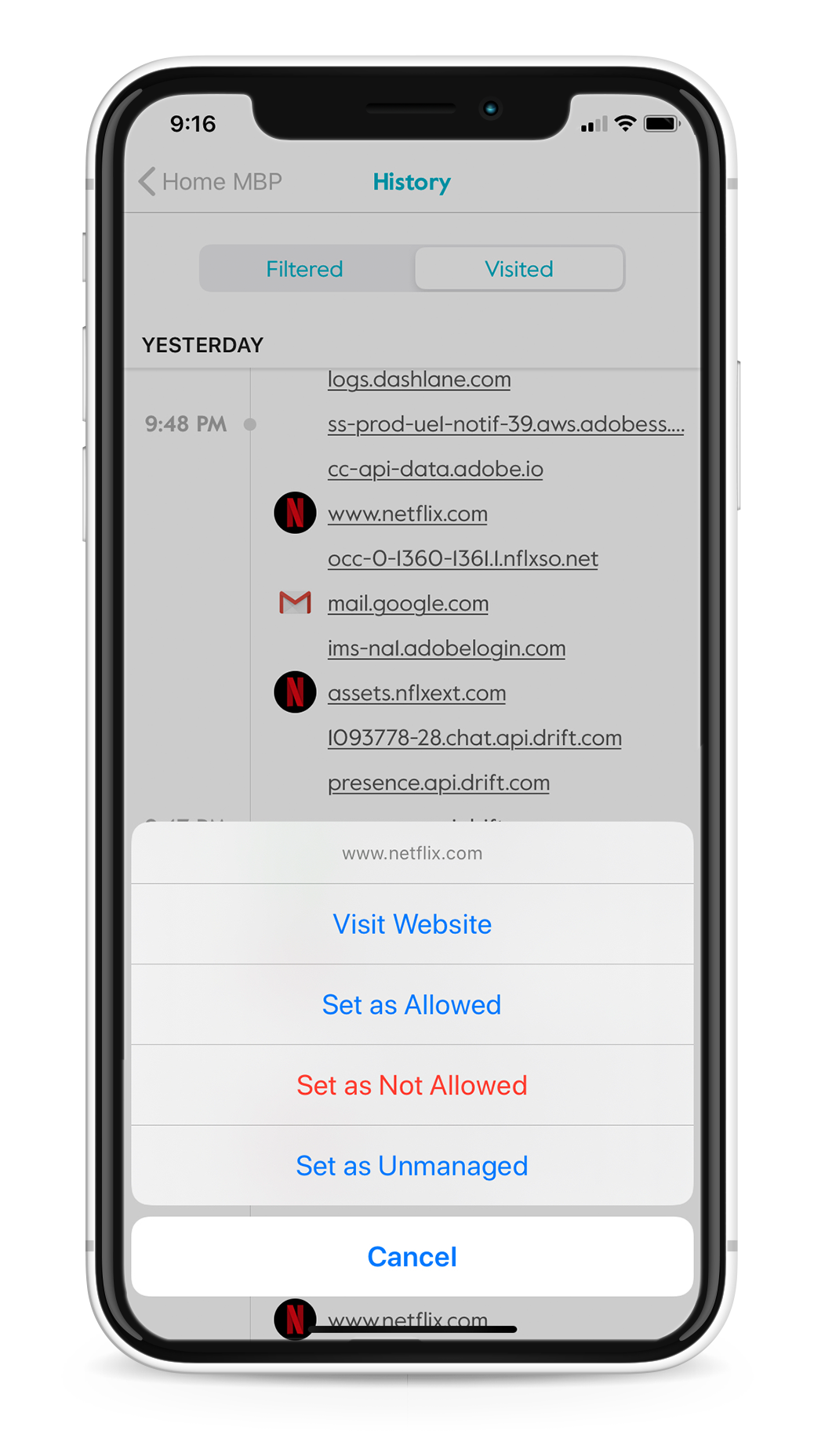 What each History action means
Visit Website
Not sure what a site actually is? Tap this option to open it in your phone's web browser. Note: some sites, such as ones hosted by advertisers or content delivery networks (CDNs), might not be accessible in this way. A site will not load if it is part of an app or CDN that is meant to be open only by the app.

Set as Allowed
Create a Custom Filter for this site, ensuring devices on this Profile are permitted to continue visiting it.
Set as Not Allowed
Create a Custom Filter for this site that no longer permits devices on this Profile to visit it.
Set as Unmanaged
Create a Custom Filter for this site that makes the site Unmanaged. Devices on this Profile will now be able to visit this site at all times, even after Bedtime and during OffTimes. History and Usage will not be recorded for this site any longer.
What is all this stuff in my History?
Sometimes, History can look strange.
You might be checking your Usage and History, and wondering why certain websites are listed that you don't recognize or don't think your family member has visited. For example, www.netflix.com makes sense, but what about http://ipv4-c032-pdx001-ix.1.oca.nflxvideo.net?
The entries you see in History and Usage are Internet destinations that a family member's device attempted to access. In the example above, the really long link is actually a service that powers Netflix behind the scenes to make viewing possible. What someone experiences as the Netflix app or website is being powered by accessing much less recognizable web addresses.
Learn more about other potentially strange History and Usage entries.
Why can't I open this link in History?
Some sites that appear in History won't open in your mobile device's browser if you tap "Visit Website". This is usually because the History entry that you tapped is a link to a service being loaded by some other app or website and is not a website that will load in your device's browser (like we discussed above).
These links show up in History because Circle sees this traffic and categorizes it accordingly. A good way to learn more about what your family members are doing online is to compare the History and Usage views for the same time period.
Can I clear or delete History for a profile?
Circle does not support clearing or deleting History for a profile. Read more about your options here.
The Circle app retains 7 days of History for each profiles and 60 days of Usage.
Other helpful articles:
Common History troubleshooting issues:
NOTE:
Features such as Filtering, Time Limits, History, and Usage are not available for profiles set to the
None
Filter Level.