Have a website, app, or category that you always want a family member to have access to and that won't count against their Time Limits? The Unmanaged Filter Setting can help.
What is the Unmanaged setting?
When you set a website, app, or category to Unmanaged, Circle won't ever filter it or count time spent on it toward Time Limits. It will always be accessible for the profile you set it as Unmanaged for, even during Focus Times, Bedtimes, Pauses, or when Time Limits have been reached. In addition, the website, app, or category won't appear in your Usage or History.
What is the Unmanaged setting useful for?
Unmanaged is a great setting if a family member or their device should always be able to reach a certain website or if you don't care about how long or at what time of day they access it.
For example, you may find the Unmanaged setting useful if you want your family member to have unlimited access to a music streaming app like Spotify, or if your family member has a device that regularly transmits health information, such as a blood sugar monitor.
How do I set something to Unmanaged?
Setting a website, app, or category to Unmanaged is super easy.
Open the profile where you'd like to make changes.

Tap Filter.
Tap on the Filter setting button next to the website, app, or category to cycle through the Allowed, Not Allowed, and Unmanaged settings.
Tap Save.
You can also set your Custom Website filters to Unmanaged as well. Learn more about Custom Website Filters.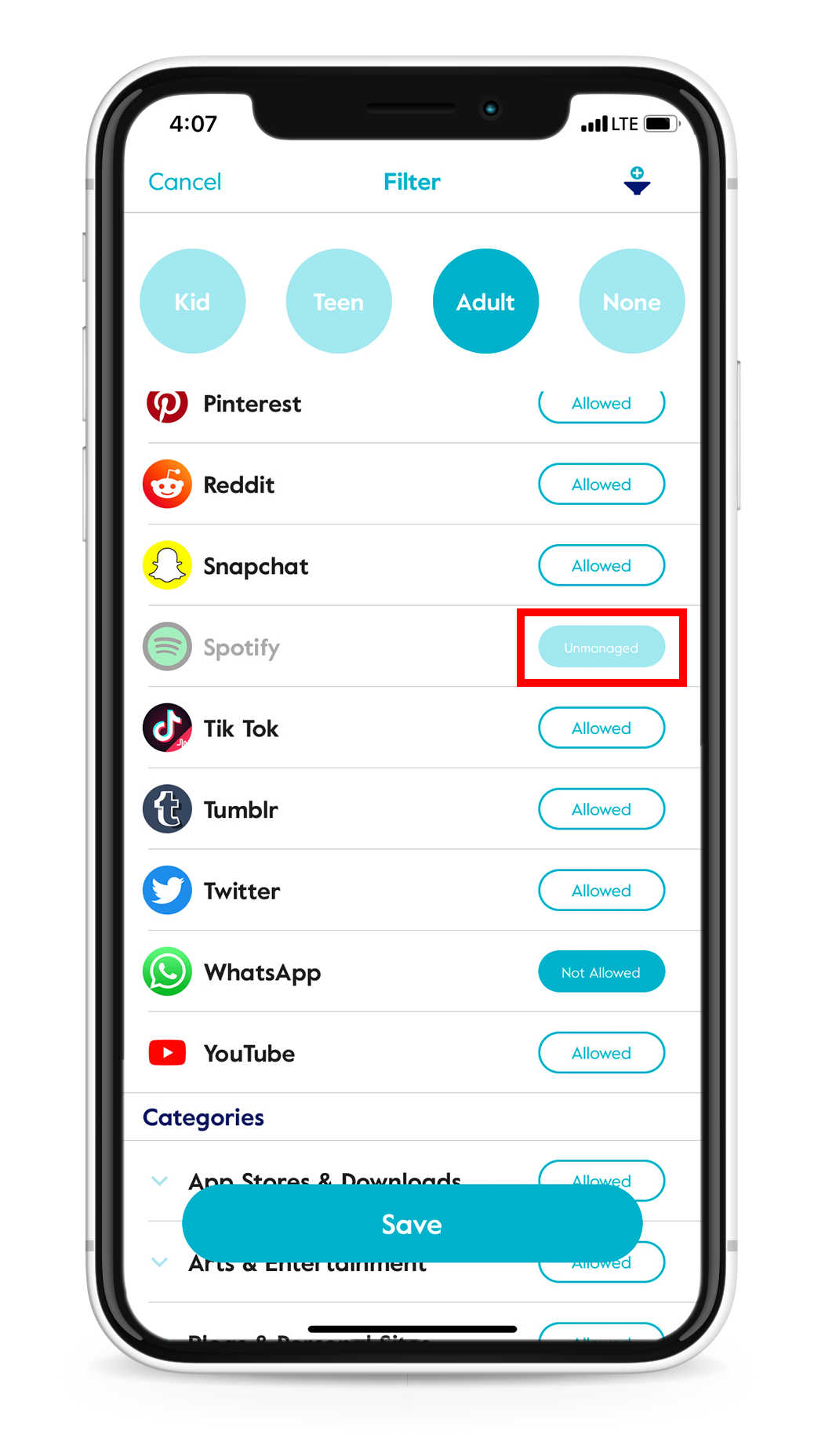 What if I want to Unmanage an entire device?
You may have a device in your home that you'd like Circle to ignore completely, like a smart thermostat, network extender, or a laptop you use for business. Circle can help with this as well.
Open the Circle app Menu and tap Devices.

Find the device you want to Unmanage and tap to open the device settings.

Tap Assigned to, and select Unmanaged Devices from the profile list.
Learn more about Unmanaging devices and other device settings.
More helpful links