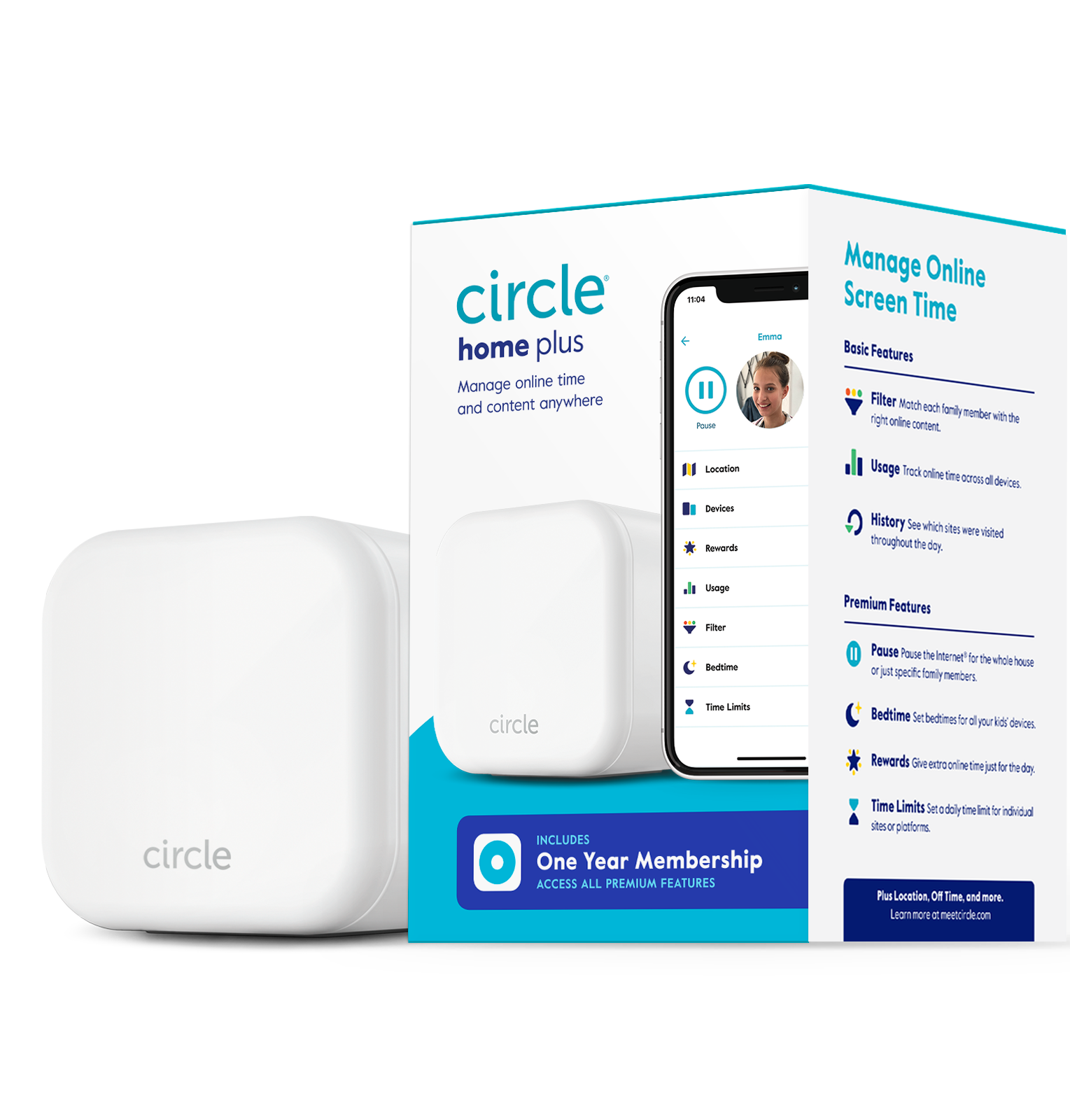 Circle's award-winning parental controls let you manage screen time and monitor not just some, but ALL websites and apps. With our complete in-home and on the go solution, you set the rules for sites like YouTube, TikTok, Fortnite, (and many more) across all your family's connected devices.
What is Circle Parental Controls?

Circle is the easiest way to manage all your family's connected devices—wherever they are, wherever they go.
What is Circle Home Plus?
Circle Home Plus is the most comprehensive solution to manage online screen time and content at-home and on-the-go. The Circle Parental Control app works with any iOS or Android device to manage all your family's Wi-Fi devices at home – from laptops and tablets to smart TVs and video game consoles – and your mobile devices across all networks, from anywhere.
The device pairs directly to your router over Ethernet, with WiFi as a backup. This support site is designed to help your family get the most out of your home's online experience.
Easy to use
Plug in Circle Home Plus, download the app, and it's ready to go. You never have to touch it again.


Covers everything
Circle Home Plus manages every connected device in your home, including phones, tablets, smart TVs, gaming consoles, and more.
Works unplugged
A built-in backup battery keeps Circle Home Plus running even if it's unplugged. You'll get a notification telling you it's been disconnected.
Super fast
Circle Home Plus is built for fast networks with a 1GB Ethernet port.
What's included when you purchase Circle home Plus?
The Circle Home Plus device connects with your router to manage every Internet-connected device on your home network.
Use the Circle App to operate Circle and manage mobile devices (iOS and Android) everywhere.
Every Circle subscription includes access to all premium features, regularly $9.99/mo. or $89.99 /yr.


Basic features
Premium features
Filter
Time Limits
Off Time
Usage
Pause
Rewards
History
Bedtime
Location
See the full list of compatible routers on Circle's Support page.
How does Circle compare with competitors?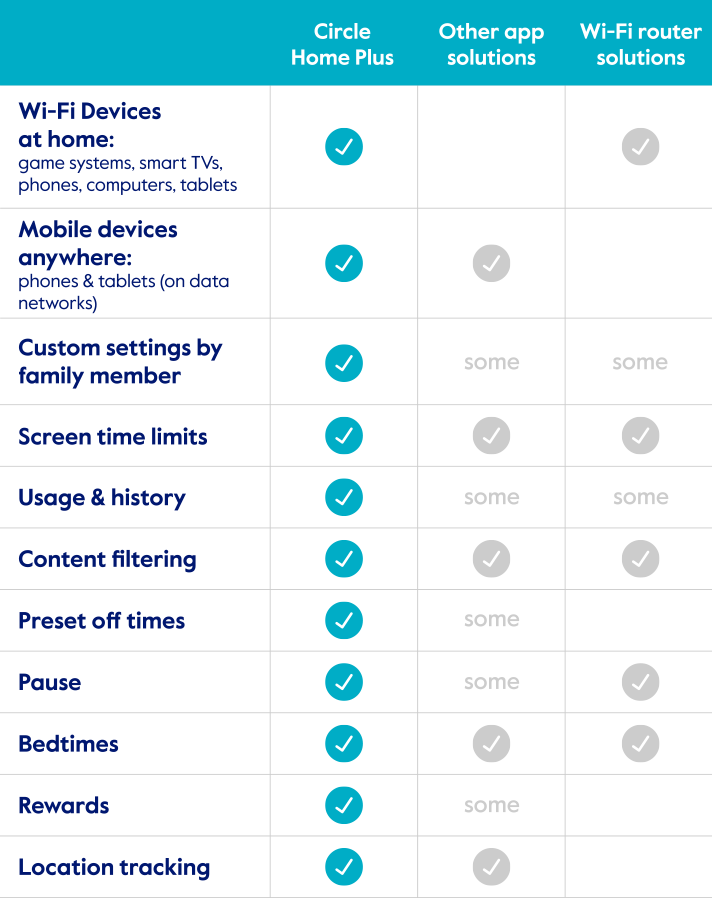 What's the difference between Circle Parental Controls and Circle 1st generation?
With Circle Parental Control app and Circle Home Plus device, we've made many improvements to the Circle product from Circle 1st generation. That includes upgrades to the Circle Home Plus device, mobile management, and new features and updates each month. Read more on why you should upgrade from Circle 1st generation and Circle on NETGEAR here.
How does Circle Home Plus work?
Once you have your Circle Home Plus device, download the Circle Parental Controls App to get started. Set up the Circle Home Plus device on your Wi-Fi router, and Circle will detect all your family's internet-connected devices. By installing the Circle app on mobile devices, you can manage them away from home as well.
See the Quick Start guide for details.
How does the Circle VPN work?
Install the Circle app on your kid's devices to manage them outside the home. Circle uses a VPN-like connection to manage that the device. Unlike a traditional VPN, Circle's VPN do not connect to separate VPN servers, but instead uses the VPN connection on the device to manage things locally, and then passes that connection on without interruption. No more issues with VPN servers, being blocked by websites that don't allow VPN connections, etc.
See our Getting Started guide for details.
What are the technical specifications for Circle Home Plus?
What's Inside the box
Circle Home Plus device
Quick Start Guides
Ethernet Cable
USB-C Cable
USB Power Adaptor
Weight & Dimensions
Width: 3.25" (8.25cm)
Depth: 3.25" (8.25cm)
Height: 3.25" (8.25cm)
Weight: 0.49 pounds
Power & Battery
100-240V Power Supply
Lithium-ion Rechargeable Single Cell
Charges via USB-C
Connectivity
2.4GHz Wi-Fi (802.11 b/g/n)
Wired Ethernet 1000Mbps
App Requirements
iOS 13 and newer
Android 6.0 (Marshmallow) and newer
Where can I learn more about Circle and Circle Home Plus?
If you are not yet familiar with Circle, please visit meetcircle.com.
Learn about some frequently asked questions here.