With the release of the new Circle Parental Control app and Circle Home Plus device, we've made many improvements to the Circle product.
This article details the differences between Circle 1st generation (using the Circle with Disney device or Circle on NETGEAR) and Circle Parental Controls and Circle Home Plus in terms of hardware, management, and feature sets.
To purchase Circle Parental Controls and the Circle Home Plus device or learn more, head to meetcircle.com
Mobile management included
With our latest product, Circle Parental Controls, mobile management for all of your family's Android, iOS, and Chromebook devices is included in your Circle subscription. Circle 1st generation and Circle on NETGEAR do not include mobile device management.
You can use the Circle Parental Control app to manage your kid's Android and iOS devices whether inside the home, on data, or on another network outside the home.
Simply install the same Circle application onto their mobile device and follow the process of "Kid app" setup, right there in the Circle App. More information on the mobile device setup of Circle can be found here.
Upgraded hardware
Compared to the Circle with Disney 1st generation device, the Circle Home Plus device is entirely new and upgraded:
Faster connection: Circle Home Plus comes with an upgraded gigabit Ethernet port while the Circle with Disney (1st generation) device utilizes a 10/100 Mbps Ethernet port, and a 802.11 b/g/n wireless card that is limited to "Wireless N" speeds over 2.4GHz. Unlike Circle with Disney this model can handle gigabit internet speeds and should not inhibit the speed in your home.


A more secure housing: we've upgraded the case to increase its resistance to being opened or tampered with.


A faster processor: 40% increase in speed means Circle is better able to handle traffic at home.


USB-C power port and battery:

Circle Home Plus power is provided by a USB-C plug in, while Circle Home is powered using USB-micro. Like the Circle 1st generation device, each Circle Home Plus device also includes a built-in backup battery to ensure it keeps running, even when it gets unplugged. Circle on NETGEAR routers do not include a battery back up like Circle Home Plus!
Circle Home Plus comes with a 3-month or 1-year Circle subscription, depending on the bundle you purchase. This lets you use all of Circle's features both in your home, as well as on mobile devices while outside the home. You can learn more about our various subscriptions at meetcircle.com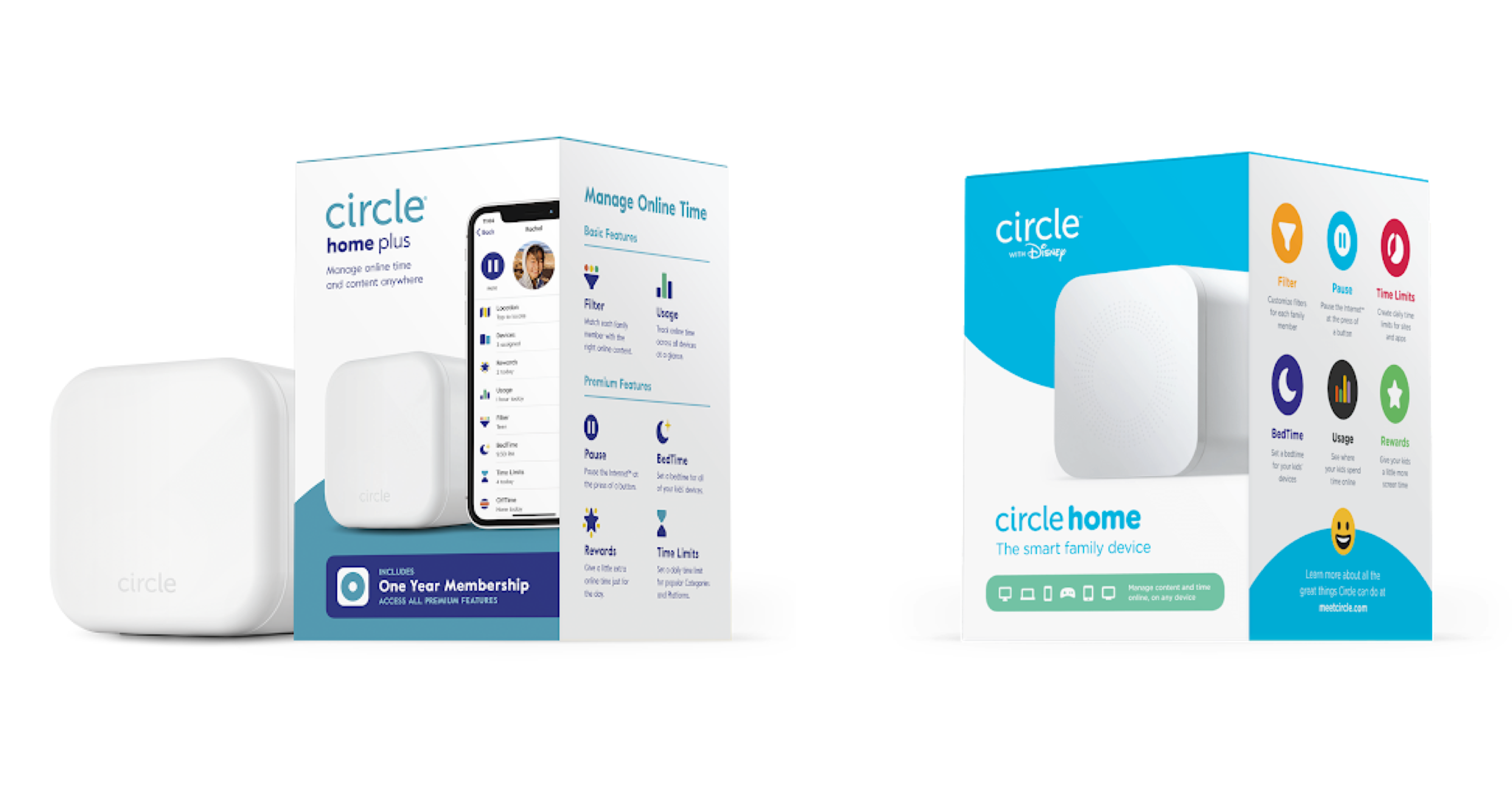 Important note: The new Circle Home Plus device and Circle Parent Controls app are not compatible with Circle 1st generation hardware. To continue using your Circle Home device, please continue using the Circle 1st generation app.
Cloud-based management and login
Along with hardware upgrades, the Circle system has moved to an optimized cloud-based solution to deliver a more consistent and reliable experience.
Your profiles and account information will be stored in the cloud, so there is no need to create a backup.


Those profiles are protected by a username and password.

This means if a hardware reset is required, you will no longer risk losing your settings and have to go through the setup process again. Everything will be saved in our system.
Circle 1st generation and Circle on NETGEAR do not secure your account online using a login (instead the data is stored locally and secured via a passcode) and do not backup your account in the cloud for access anywhere.
New features
Location is a brand new feature to keep track of your family's mobile devices, wherever they go. The Location feature allows parents to send a point-in-time location request to a child's device with a simple click of a button. Circle does not retain the historical location of any family member's device.

Once located, their location will be displayed in the parent app. For more information on the new Location feature, check out this article

here

.

Circle 1st generation and Circle on NETGEAR do not include location pinging.


Circle Parental Controls includes new evasion prevention techniques like identifying newly found devices automatically and app deletion prevention.


Focus Times allow you to set up customized times during the day when only certain apps or categories of sites are allowed and all other apps and categories are filtered by Circle.
Can I move my Circle 1st generation profiles to my new Circle account?
Circle Parental Controls and Circle Home Plus is a new product that works very differently than Circle 1st generation. You won't be able to backup and restore your profiles from Circle 1st generation. Instead, the app will guide you through creating new profiles and making sure your kiddo's devices are managed appropriately. You can use the article here to get a list of your Circle 1st generation profiles and devices emailed to you!
Summary
Mobile management for all of your family's devices is included in your Circle subscription.

The new Circle Home Plus device has been totally upgraded including a faster network connection thanks to a 1Gb Ethernet port and 40% faster CPU.

Your account is now stored safely in the cloud for easy access via secure login.

We've included new features like Location pinging, evasion prevention methods, and our new Focus Time feature. Our 1st gen. and NETGEAR products do not include these features