Circle lets you set the Filter Settings just the way you want for each family member. You can configure age-level presets all the way down to website categories, specific online websites or apps, Custom Filters, and online services like YouTube's Restricted Mode or Safe Search.
Circle's Filter levels set what each family member can and can't view, and each of the toggles lets you customize the content experience to your liking.
Setting the Filter Level
Select the profile of the family member you'd like to set a Filter Level for from the home screen.
Tap the Filter Level you'd like to set. See below for descriptions of these levels.
Tap Save.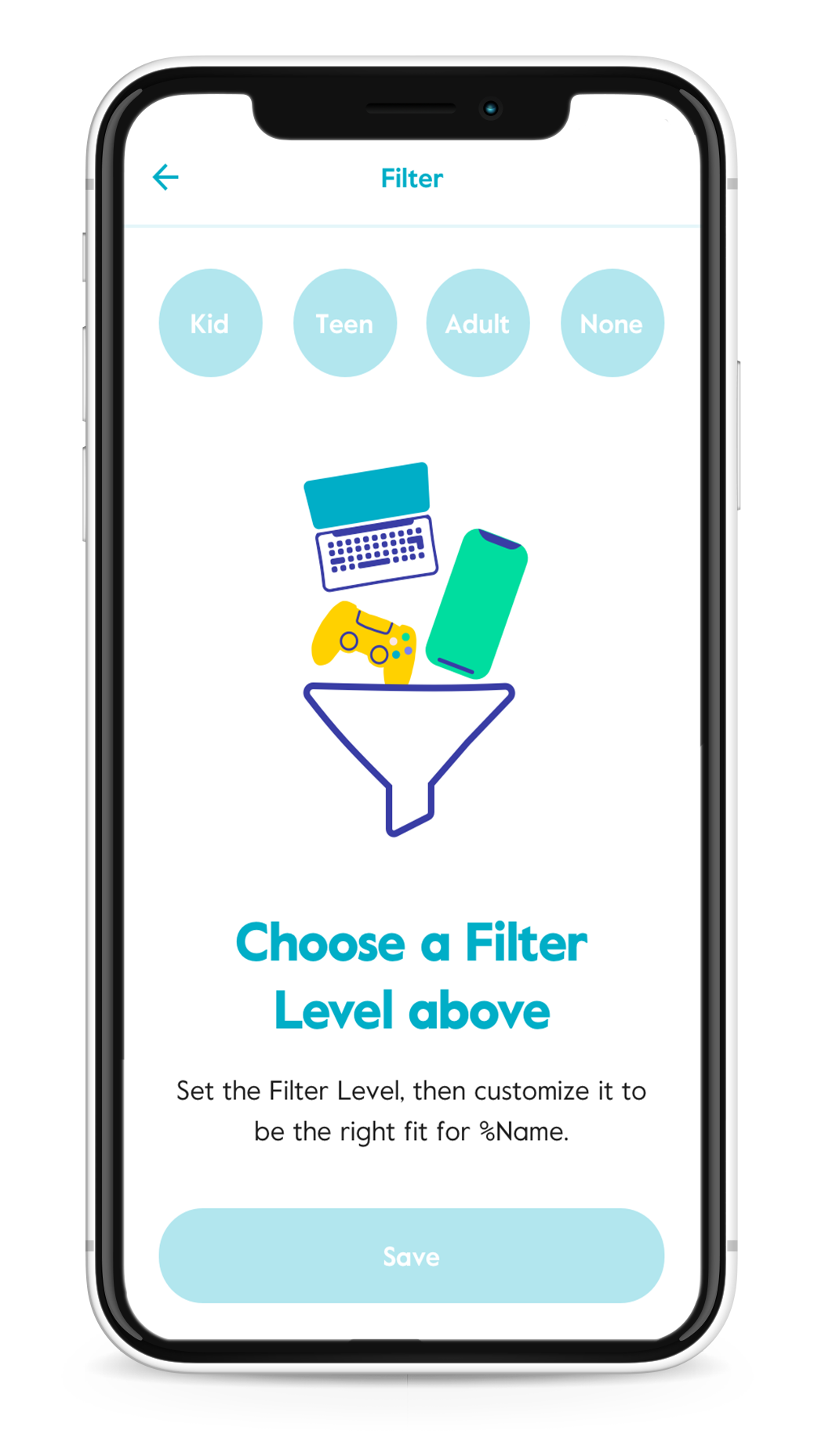 Circle's Filter Levels
Circle Filter Levels are sets of default filter settings put together by the Circle team to help you get started with Filter settings. Read more about the specifics defaults for each Filter Level.
Kid - Works for kids 6-12 years old. Apps or websites like education and kid-safe experiences are set to Allowed by default while filtering out sites designed for older age groups, like social media.
Teen - Crafted for teens 13-17 years old. Most apps or websites and categories are available while limiting access to many popular apps or sites that are 18+. Inappropriate categories are filtered and invisible by default.
Adult - Appropriate for ages 18 years old and up. Access to nearly all apps or websites, and categories is available, though explicit and mature content is filtered out by default.
None - Designed for profiles where you want Circle to ignore filters, but still allow Pause, Bedtimes, and Focus Times.
NOTE: Features such as Filtering, Time Limits, and Usage are not available for profiles set to None.


Managing popular apps, websites, and categories
Circle filter settings are broken up into Categories, Popular Apps or Websites, and select Privacy & Safety options. Learn more about all the filtering options available with Circle.
Apps or websites, and category filters can be toggled to Allowed, Not Allowed, or Unmanaged. You can change the filter setting for a specific website or category by tapping the button beside it to cycle through the options.

You can toggle between the App, Category, and Custom Sites view by tapping on their respective tabs.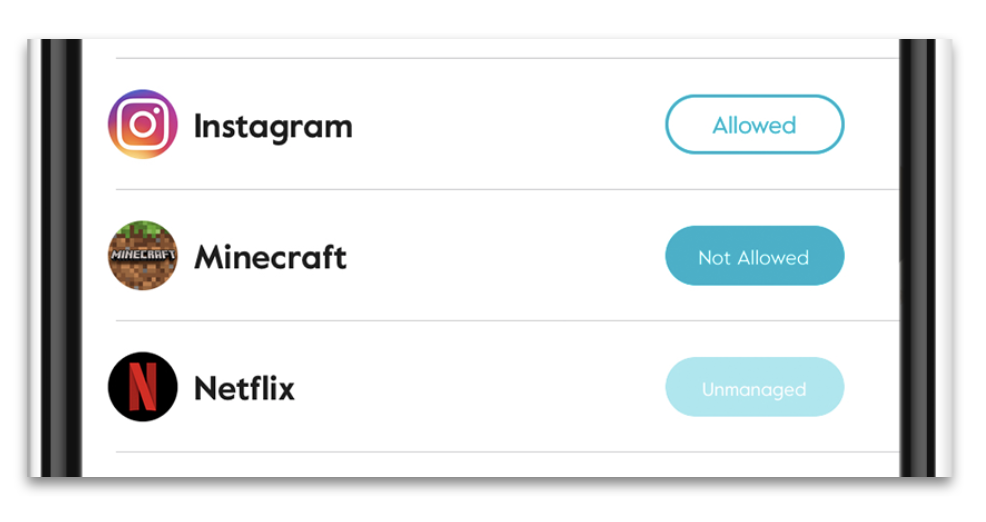 Allowed means that devices assigned to this Profile WILL be able to access this app/website or category. Usage and History will be tracked and will count toward any Time Limits set.
Not Allowed means devices assigned to this Profile WILL NOT have access to this app/website or category. Attempts to access this content will be recorded under History > Filtered.
Unmanaged means devices assigned to this Profile will have UNLIMITED access to this app/website or category, even during Bedtime and Focus Times. History and Usage will not be tracked and will not count toward any Time Limits set.
NOTE: If you are unsure of what a category or app/website might be, just tap the icon to read a description to help you make the decision about whether to allow, filter, or ignore.
Not seeing the app you need?
Make sure to search for that using the "Managing additional apps" guide below. We have a guide on adding additional apps here as well. If the app or site does not appear in our list you can make a Custom Filter to manage the app or site. We do not recommend setting up Custom Filters for apps/sites that appear in the Circle list or the additional apps using the guide below.
Managing additional apps
Circle supports many other apps or websites but does not display them by default in the list. When they are visited by a device managed by Circle, they will appear in your Usage view and can be added from there! You can also add those using the "Plus" icon (Android) on the Filter page or by tapping "Add more apps & websites" at the end of the app list (iOS). Learn more in the guide here.
Additional details about Circle filter options
Note that app/website filters take precedence over category filters, so if an app/website and Category Filter conflict, the app/website Filter will win out. Learn more about how Circle manages conflicting filter settings.
Circle partners with an online database called Webroot Brightcloud

to categorize sites and has bundled them into a series of easy-to-understand Categories, like Education or Games.

Don't immediately see the app or website listed that you would like to manage? You can also add Additional Apps or Websites and set them to Allowed, Not Allowed, or Unmanaged.