SafeSearch is a tool provided by Google, DuckDuckGo, and Bing that eliminates sexually explicit content from these sites' search results. YouTube's Restricted Mode is similar, but for their videos. Note: Circle is only capable of enforcing YouTube's most limiting version of Restricted Mode.
"When SafeSearch is on, sexually explicit video and images will be filtered from Google Search result pages, along with results that might link to explicit content. When SafeSearch is off, we'll provide the most relevant results for your search and may include explicit content when you search for it." - Google Support

"Restricted Mode was created to provide viewers who wanted to better control the content they see on YouTube with an option to choose an intentionally limited YouTube experience." -

YouTube Support
What should I know about Circle's SafeSearch/Restricted Mode Enforcement?
Circle does not determine what content appears when SafeSearch or Restricted Mode is enforced. Circle only enforces the use of Google, DuckDuckGo, and Bing's SafeSearch features and does not control the effectiveness of the tool directly. If you run into issues with how these company's SafeSearch features handles particular search terms, please contact Google support or Bing support, respectively, to let them know where the tool is failing.
When YouTube's Restricted Mode is enforced by Circle on a device you will not be able to load livestreams or comments on videos from YouTube. This is a restriction put in place by YouTube to ensure only kid-friendly material is presented.
Enabling SafeSearch disables access to Yahoo.com.
SafeSearch and Restricted Mode is enforced at the network-level or using the Circle kid app VPN once a device is assigned to a profile with that featured enabled.
If you're having issues with SafeSearch or Restricted Mode enforcement see the troubleshooting section below.
SafeSearch is enabled by default on Pre-K. (Circle 1st generation) and the Kid filter levels. For all other levels you will need to enable SafeSearch or Restricted Mode during profile set up or from the profile's Filter Settings.
To enable SafeSearch
Select the profile of the family member that you would like to enable SafeSearch for.
Tap Filter in their profile settings.
Scroll to the bottom of the filter options to the Privacy & Safety category.
Tap the button next to SafeSearch to turn it from Off to On.
Press Save at the top right of the screen.
NOTE: When SafeSearch is enabled on a family member's profile, access to Yahoo Search will be disabled for devices on that profile. Access to sites such as yahoo.com will still be available.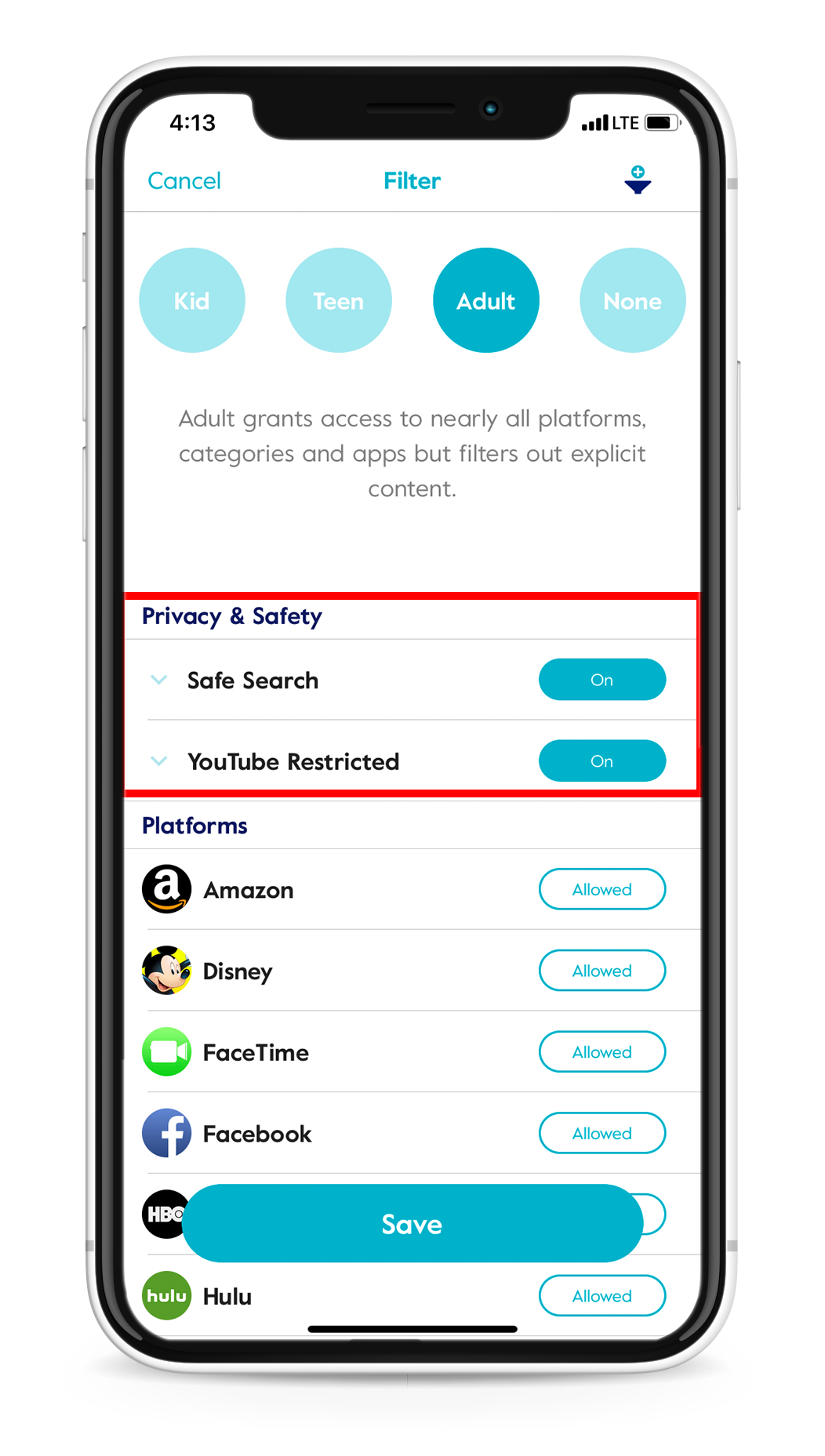 To enable Restricted Mode
Enabling YouTube's Restricted Mode is very similar to the steps above, just make sure it is set to "On." Keep in mind that the version of YouTube's Restricted Mode that Circle enforces is the most restrictive. You can read more about what it filters here. For feedback related to Restricted Mode please contact YouTube.
Troubleshooting Issues with SafeSearch or Restricted Mode
To make sure a device has SafeSearch or Restricted Mode enforced it needs to meet the following requirements:
Managed by the Circle device and on the home network, or has the kid app VPN installed.
Assigned to a profile with a Filter Level of Adult, Teen, or Kid.
SafeSearch or Restricted Mode is turned on for the Filter Settings (on by default for Kid Filter Level).
How do I know SafeSearch is being enforced?
You can check if SafeSearch is enforced by Circle by opening Google.com/preferences. As long as your device meets the requirements above you should see that SafeSearch is turned on as in the screen below or on mobile devices see that "SafeSearch Filters" is set to "Filter explicit results".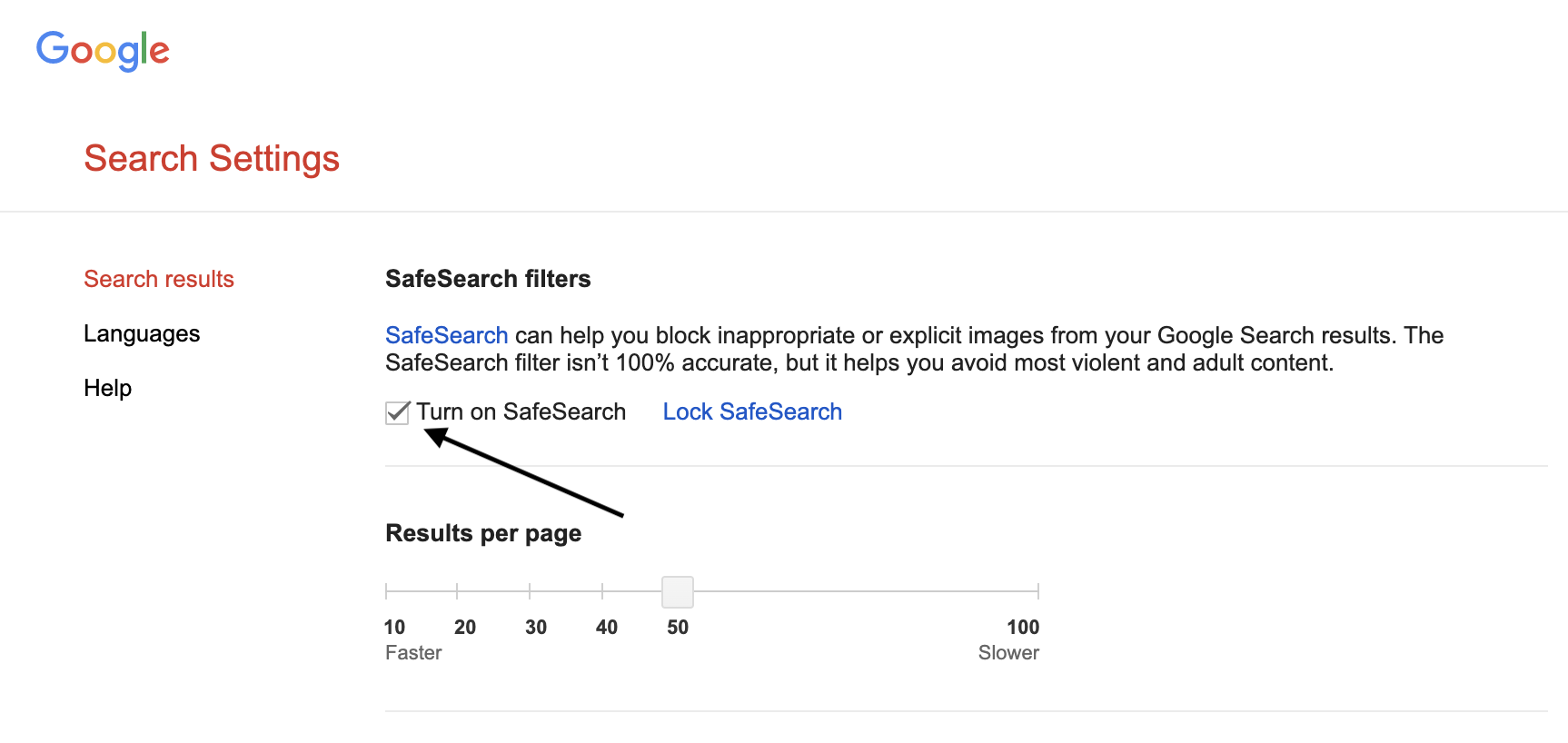 Need to test if SafeSearch enforcement is working?
Check to turn off SafeSearch at Google.com/preferences
Save your change
Refresh the Google.com/preferences page to reload it
If the SafeSearch setting is still checked after refreshing the page, Circle is working correctly to enforce that setting. If it is not checked, make sure your device meets the requirements above, or use the link below for Circle not filtering a device correctly.
How do I only allow YouTube Kids?
YouTube provides a kid friendly version of their app that is very similar to "Restricted Mode". The resources that the YouTube Kid app uses to load those videos are dependent on the same ones that YouTube loads. This means you won't be able to set YouTube to "Not Allowed" using Circle and still have YouTube Kids load videos. Instead, you can enable YouTube Restricted Mode on the profile and use the YouTube app to load content. The level of filtering that Restricted Mode on Circle uses is very similar to what the YouTube Kid app uses.
More Helpful Links