Circle can manage a large number of popular apps and websites by default, but some sites or apps might need a some more customization. Discord, the popular chat server app, is an example of one of these. While you can't set Time Limits for Discord directly, you can set up Custom Filters or Category level Time Limits for it using the guide below.
How Do I Know a Profile is Visiting a Site like Discord?
Circle has the ability to manage a large number of popular apps or websites with their own settings. You can see a list of those popular apps and websites here. Those sites will appear in History / Usage as icons and with the website's URL (see the example for Google Drive or Gmail in the image below).

Other sites or apps will appear in Circle's History or Usage as a URL. Discord is an example of one of these sites. Instead of an icon appearing next to the IRL, you might notice that when Discord is in use it appears in History or Usage as discordapp.com, status.discordapp.com, gateway.discord.gg or other links like that (see the image below for an example).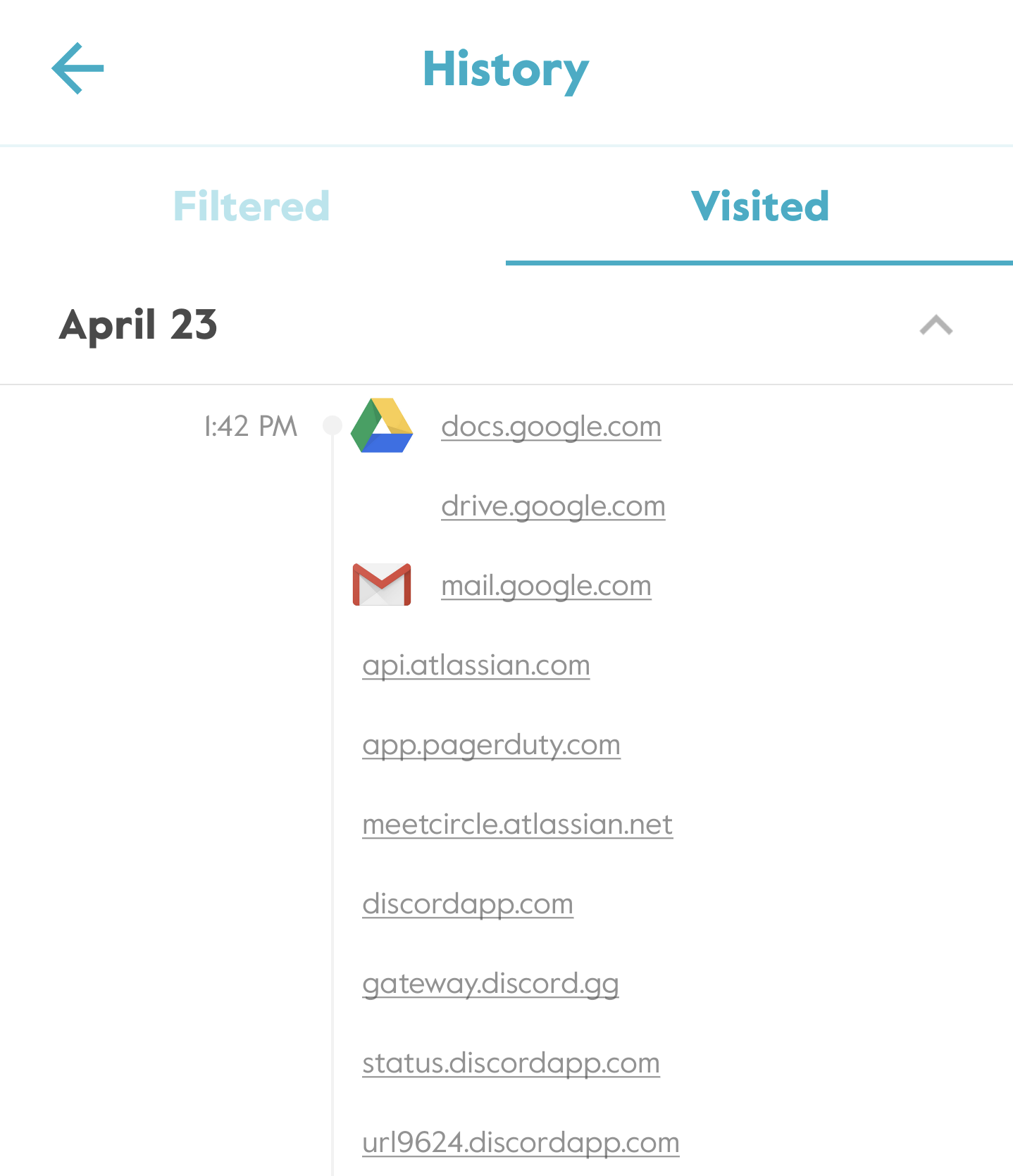 Managing or Filtering Sites like Discord
The links that appear under History or Usage can be managed using Circle. You can set those URLs to "Not Allowed" or "Unmanaged" by tapping on the link and then the option you'd like. This creates a Custom Filter for the site.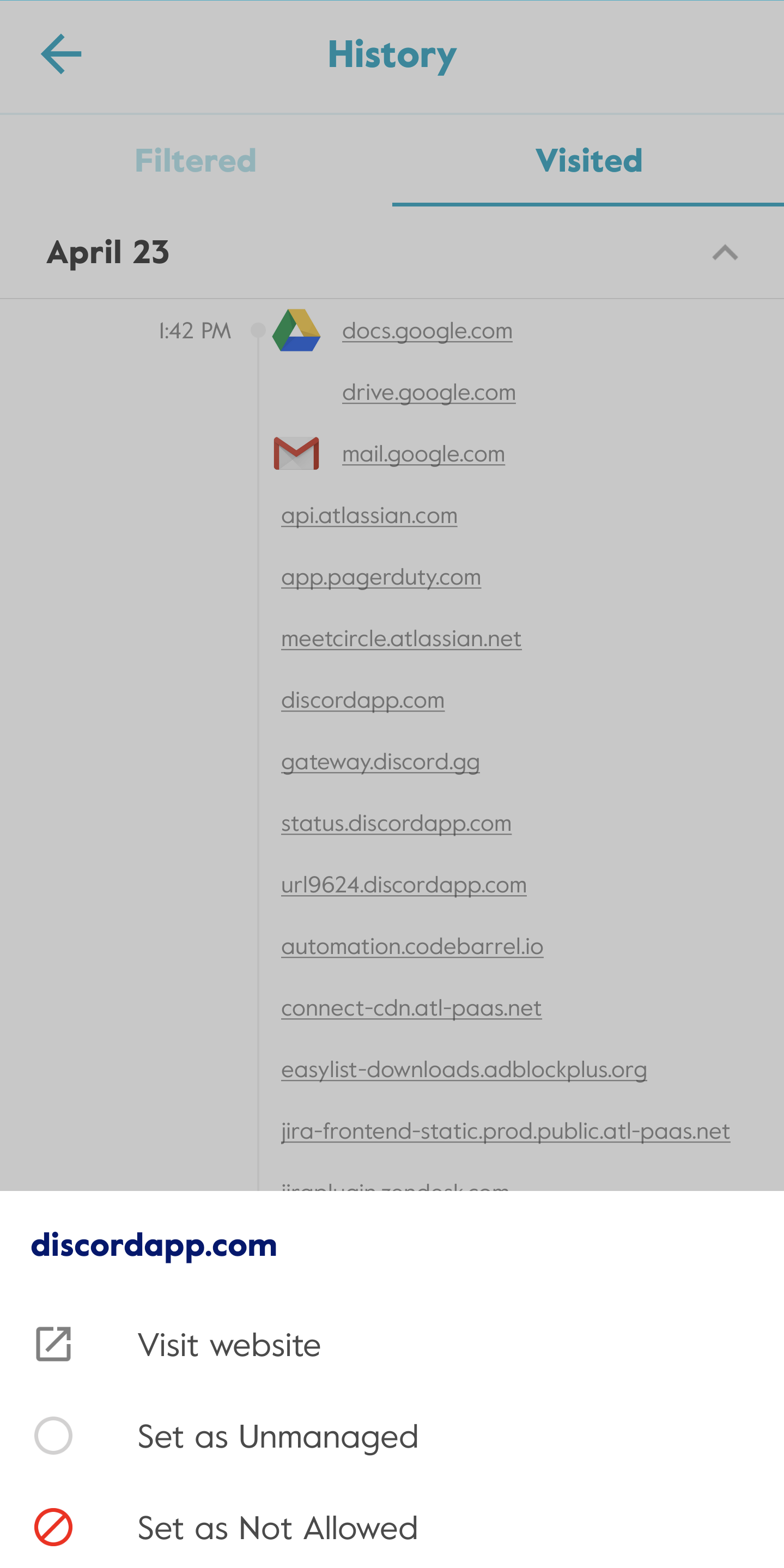 Setting a site to "Not Allowed" means it won't ever load for devices assigned to that Profile. Because apps or sites might load other resources, you may need to set multiple websites to "Not Allowed" to block them.
Setting a site to "Unmanaged" will make sure it is always accessible, whether during a Bed Time, Focus Time, Pause, a Time Limit being reached, etc. Just as with blocking, you may need to set multiple websites to "Unmanaged" to allow them at any time.
You might tap "Visit website" to load it in your browser. Warning: some links in History will not load in a browser since they are meant to be opened in an app or using other resources.
How do I set a Time Limit for a site like Discord?
With Circle many popular apps or websites can have their own Time Limits set up. As an example, you can set an individual Time Limit for a site like YouTube. Not all sites your kiddos visits can be managed in this way since they are not part of our popular apps and websites list. Instead, a site like Discord can be managed using a Category Time Limit.
Where Can I Find Discord or Another Website's Category?
With Circle every app or website has an overarching Category (this link includes a list of our Circle categories). You can set up a Time Limit for this category of websites / apps to limit time spent on those. To determine the Category of a website or app like Discord, head to the profile you are concerned about, then tap on Usage. You can then tap on a Category to show what websites appear there and used for that day or period of time.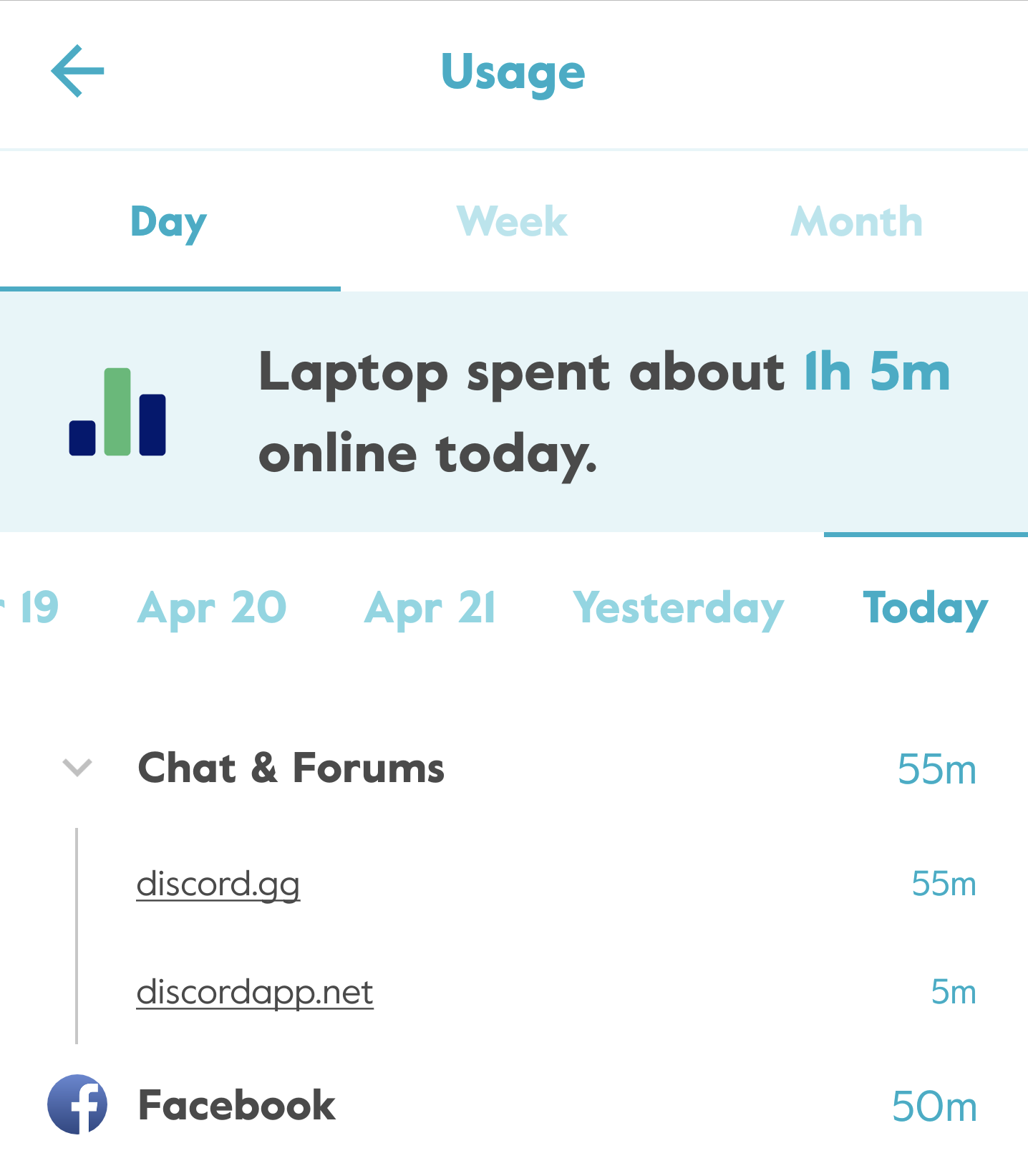 In the above image example we've opened the "Laptop" profile, then tapped on Usage. After that we've tapped on the arrow next to "Chat and Forums" to reveal the websites that were opened that day in the category. You can see that Discord appears and has about 55 minutes of Usage for the day.
How can I set a Time Limit for a Site or App like Discord?
Now that we know Discord is considered part of the "Chat and Forums" Category we can set a Time Limit for all of that category by heading to Time Limits under the Laptop profile, scrolling down in the list to find "Chats and Forums", tapping on the category and then selecting our Time Limit. If we set a "1 hr 15 mins" Time Limit after that amount of time spent websites are used in the category "Chat and Forums" websites will no longer load.
Will this Guide Work for Other Sites?
Yes! You can use the same principles as above to manage other apps or website that Circle doesn't manage neatly by default. The high level steps below will help you get started:
Check your History and Usage for a profile to see what sites your kiddos are using.
Set those to Not Allowed or Unmanaged from the History or Usage view by tapping on them.
Determine the sites Category by looking in the Usage view for the website.
Set a Time Limit for the website's overarching Category if you want to limit access after a certain amount of time on the site.