If your subscription is about to end or has already lapsed, you can renew your subscription a couple of different ways.
For families who only want to use Circle to manage their mobile devices (iOS or Android), Circle's premium features are available for renewal through an in-app purchase or by purchasing a bundled subscription:
Manage any current subscription through the App Store or Play Store.
Renew your Circle subscription via in-app purchase or our email prompt.
What's the cost for Circle's Premium Subscription?
Two options for your in-app subscription exist: $9.99 (USD) monthly or $89.99 (USD) annually.
When you subscribe you receive all of Circle's premium features.
What happens if I don't renew?
If you choose not to renew your Circle subscription subscription, you will enter the Basic subscription level and lose out on Circle's Premium features when it expires. Here are the Premium features that you will lose:
Renew your Circle subscription from the Circle Parental Controls app
Launch the Circle Parental Controls app.
Go to Menu >> Premium (see screenshot below).
Select the renewal option that's right for your family.
Note: the Premium option for renewal will *only* appear if your Circle subscription has already expired. If the premium Menu option is not available you already have the premium features and do not need to renew your subscription.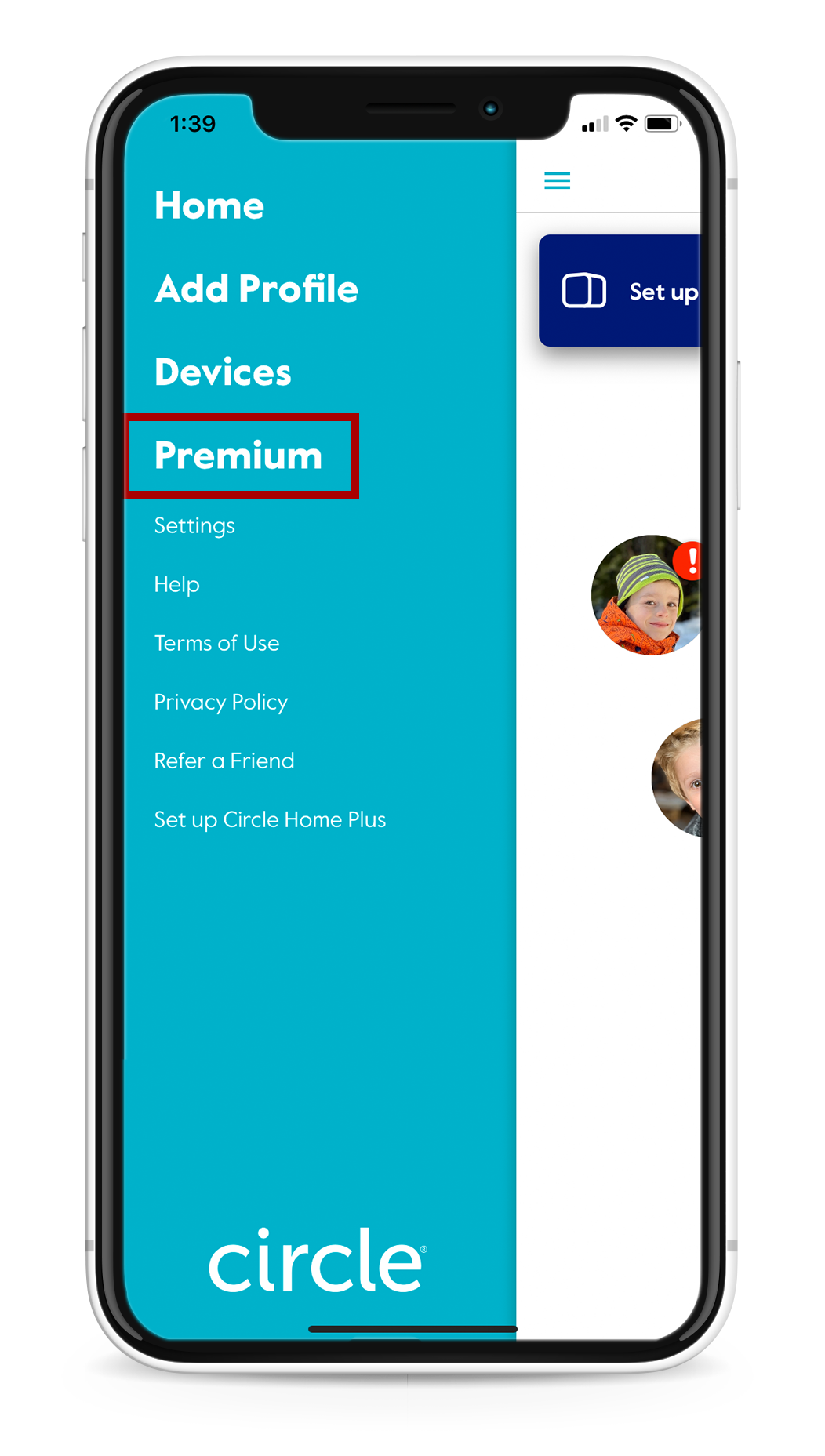 Renew your Circle subscription from the email prompt
You may have received an email or in-app message from the Circle team that "Your subscription expires soon." If so, you received this message because you are approaching the end of your Circle subscription that came bundled with your Circle Home Plus device.
Open that email or message on your parent device.
Follow the link.
Select the option you need to renew your subscription.
If you don't have the app installed, first download it and log in with your Circle account credentials. Then, open the link in the email to renew.
What if I returned or don't want to renew?
If you returned your Circle Home Plus device, or if you just want to use Circle at the Basic level, please feel free to disregard the message. The email you receive will also have an option to unsubscribe at the bottom.
How do I manage my Circle subscription?
Learn how to manage or cancel your subscriptions using our Circle Subscription Management Guide.
Having Issues Renewing or Subscribing?
If you're having issues renewing your Circle app, make sure you are up for renewal. You will only see the option for Premium in the Circle Parental Control Menu if you need to renew. If that option doesn't appear you already have the premium features.
Should your renewal and the premium features not appear you can try using the "Restore Purchase" option (iOS only) or starting your subscription again at the same level. You'll want to make sure when doing so that you are logged into the iOS or Android account that made the subscription originally.
Having trouble subscribing to a Circle product? Check out this article for assistance.